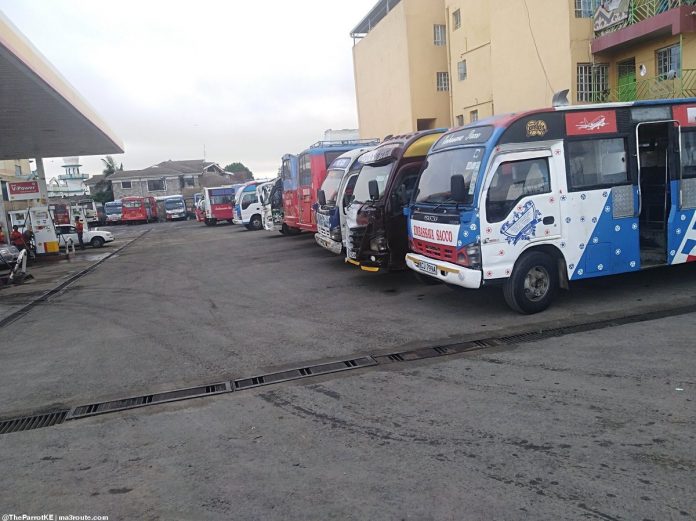 The ministry of transport has today, Monday 12th November 2018, reinforced implementation of the tough traffic rules popularly known as the 'Michuki Rules'. This is in a bid to arrest the spiraling road carnage. Related content: Motorists directed to comply with all traffic rules, including the famous Michuki rules
The crackdown on Public Service vehicles has seen a number of them pulled off the roads forcing passengers to use alternative means of transport; including trekking to work. For the few vehicles plying the roads this morning have exponentially increased fares.
THE TRAFFIC RULES ENFORCEMENT CHECKLIST
To be safe and to avoid getting yourself on the wrong side of the law, read through the checklist that traffic officers will be using to enforce the traffic rules:
Checklist for drivers and motor cycle riders:

Validity of the driving licence
Wearing correct uniform
Wearing the helmet, for motor bike riders
Availability of the Public Service Vehicle, PSV, badge
Having a PSV photo
Number of passengers carried
Alcohol level status
Observing traffic signs

Checklist for Conductors:

Wearing the correct uniform
Availability of the PSV badge
Number of passengers carried
Alcohol level status
Riding in a dangerous position i.e hanging on the doors
Touting

Checklist for passengers/ Travelers:

Fastening safety belts
Stealing a ride
Being excess
Wearing a helmet; for motor cycle passengers
Wearing a reflective jacket

Checklist for Motor Vehicle offences:

Availability of inspection certificate
Availability and condition of the speed governor
Suspension
Steering
Availability of the continuous yellow line
Presence and condition of seat belts
Body works condition of the vehicle
Having tinted/ reflective material
Blinking lights
Pull bars and extended rims/ running board
Availability of loud music systems
Blaring horn
Modified exhaust systems
Insurance status
Condition of tyres
LIST OF TRAFFIC OFFENCES AND PENALTIES:
The National Transport and Safety Authority (NTSA), has released a new list of minor traffic offences and the fine the offender will be required to pay should they be caught.
Here is the list of the offences and respective fines due (courtesy)
Driving a vehicle that does have identification plates affixed or if they've been placed incorrectly – Ksh. 10,000
Driving on or through a pedestrian walkway or pavement – Ksh. 5,000
Causing obstruction on the road with your vehicle in a manner that inconveniences other motorists or prevents flow of traffic – Ksh. 10,000
Failure of a driver to obey traffic signs – Ksh. 3,000
Failure of a driver to stop when asked to do so by a police officer in uniform – Ksh. 5,000
Driving without a valid driving licence that corresponds to the class of the vehicle being driven – Ksh. 7,000
Failure to renew a driving licence -Ksh. 1,000
Failure to produce a driving licence on demand – Ksh. 1,000
Driving while using a mobile phone – Ksh. 2,000
Learner failing to exhibit 'L' plates on front and rear of the vehicle – Ksh. 1,000
Failure of a vehicle to carry lifesavers – Ksh. 2,000
Failure to display lifesavers in the case where any part of the vehicle remains on the road in a position to obstruct or cause obstruction – Ksh. 3,000
Failure of vehicle to have seat belts – Ksh. 10,000 for every seat that doesn't have a seat belt or if the the seat belts are not of the proper standard.
Failure to wear a seat belt while the vehicle is in motion -Ksh. 500
Driving a PSV while being unqualified -Ksh. 7,000
The driver of the PSV who lets an unauthorized person drive – Ksh. 5,000
An unlicensed individual acting as the conductor or driver of the PSV – Ksh. 5,000
PSV picking and dropping passengers at areas that are not the designated bus stops – Ksh. 1,000
Failure to fit prescribed speed governors in vehicles – Ksh. 10,000
Travelling with a part of the body outside a moving vehicle – Ksh. 1,000
Touting – Ksh. 3,000
Motorcycle rider riding without protective gear -Ksh. 1,000
Motorcycle passenger riding without protective gear – Ksh. 1,000
Rider of a motorcycle carrying more than one passenger – Ksh. 1,000
Failure to keep seat belts in a clean and wearable condition – Ksh. 500
Exceeding the speed limit as prescribed to the class of the vehicle by;

1-5 kph: Ksh. 500
6-10 kph: Ksh. 3,000
11-15 kph: Ksh. 6,000
16-20 kph: Ksh. 10,000