The Teachers Service commission, TSC, runs official telegram and Twitter groups where teachers can get real time updates from the commission.
TSC on Twitter:
The Teachers Service Commission, TSC, runs an official Twitter Account where it gives updates on matters teachers. The account, currently, has: 71.2K tweets and 11K followers.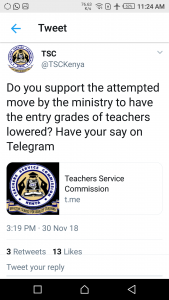 To join the twitter account:
Use the Twitter handle (Simply type the twitter handle on Twitter and search): @TSCKenya
or
TSC on Telegram:
The Commission, also, runs a Telegram group that currently has 1,636 members (1.6K Subscribers). The Telegram group is called; 'Teachers Service Commission.'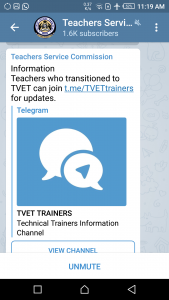 To join the Telegram Channel;
Search for the Channel (On a search engine e.g Google, Chrome, Opera..) by Typing https://@tsckenya
or
You may also like:
How to easily fill data into the online TPAD forms, for TSC Teachers at https://tpad.tsc.go.ke/83
Download TSC forms and other documents here/ Get information on TSC leaves, allowances, pension, registration certificate, CBA, TSC Number, interdiction & disciplinary process.