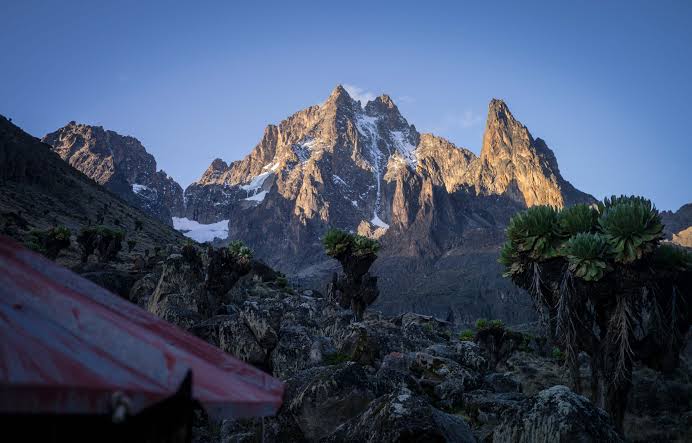 PRESS STATEMENT
UPDATE ON MT KENYA FOREST FIRE SITUATION AS AT 1ST MARCH 2019
The Cabinet Secretary, Ministry of Environment & Forestry Keriako Tobiko visited Mount Kenya ecosystem on Thursday 28/02/2019 where he undertook aerial survellance and observed efforts to suppress the fire that has so far razed over 100,000 acres of moorland.
The CS visited the affected region and held discussions with members of the County Security Committee, at the joint command center at Chogoria gate
Tharaka Nithi County. He was accompanied by the Chief Conservator of Forests, Ms. Monica Kalenda. As at Friday evening 2/3/2019, in some areas the fire had
been put out but in other areas the fire is still raging Four major fires in Meru and Tharaka Nithi side are still burning despite major suppression efforts witnessed today. A total of 555 responders including KDF soldiers are now on site working to suppress the fire. Unfortunately, A fire has also erupted at a bamboo forest area near Chogoria gate Fire at the Kirinyaga side in Kangaita had been controlled but later in the day it erupted again. Aberdares Forest has also been on fire since Thursday 28/2/ 2019
morning and it is still burning at kamiruri area of Ndaragua forest station. In addition, the Shamata fire at Aberdares National park is still raging despite major efforts by multi-agency responders.
KDF has deployed 240 troops to Chogoria gate and the troops started firefighting today. Another 250 KDF troops have been deployed to Nyeri side of Mt. Kenya.
The fire seems stubborn mainly due to bad weather. An operational plan has been agreed upon by the unified multi-agency command team under the coordination of the County Commissioner Tharaka Nithi and major gains are expected to be registered tomorrow
Mt Kenya forest fire has been raging for the last five days. About 100 personnel comprising of Community Forest Association members are also involved in firefighting efforts.
Daily updates will be communicated to the press.
Elias Njeru
HEAD, PUBLIC COMMUNICATIONS
0722287850
@Environment_Ke
Ministry of Environment & Forestry