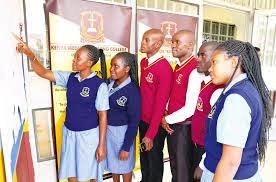 Makindu Campus started in September 2015 through the initiative of the Government of Makueni County in partnership with the KMTC Board of Directors. The first programme to be introduced was Diploma in Clinical Medicine, a three -year program and in March 2016, three and a half year Diploma in Kenya Registered Community Health Nursing was introduced.
In September 2017, a two-year Certificate course in Orthopedic Plaster was also started followed by a certificate course in Medical Engineering in March 2019.
Initially, the Campus was housed at Makindu Sub County Hospital Trauma Centre awaiting construction on a five-acre piece of land allocated by the County Government.
In June 2016, the students relocated to the first two classrooms constructed by the County Government and on 7th December the same year His Excellency the President Uhuru Kenyatta, officially commissioned the Campus.
The pioneer group of 44 clinical medicine students graduated in December 2018 while the pioneer Nursing and Orthopedic Plaster Technology students are set to qualify in July 2019.
Programmes and Courses currently offered
Certificate in Orthopedic Plaster
Certificate in Medical Engineering.
Diploma in Clinical Medicine and Surgery
Diploma in Kenya Registered Community Health Nursing
Future plans
We plan to start an in-service upgrading programme for certificate in Orthopedic Plaster to diploma in Orthopedic Trauma Medicine which is a one- year course.
We are also conducting short courses in: –
HIV/AIDS Care and Management
Infection Prevention and Control
Community Health and Development
Basic Life Skills and First Aid
Computer packages
Facilities
The campus has lecture rooms and a computer room which doubles up as a library with a sitting capacity of 40 students.
Campus contact information: –
The Principal
KMTC Makindu Campus
P. O. BOX 127-90138,
Makindu
Tel: 0722988456/0722156498
Email: [email protected]
Full list of all Courses offered at KMTC (See minimum entry requirements)
1. Clinical Medicine and Surgery (Diploma and Higher
Diploma)
2. Medical Laboratory Sciences (Diploma and Higher
Diploma)
3. Orthopaedic and Trauma Medicine (Certificate
and Diploma)
4. Community Oral Health (Diploma)
5. Medical Imaging Sciences (Diploma and Higher
Diploma)
6. Medical Education (Higher Diploma)
7. Health Records and Information Technology
(Certificate and Diploma)
8. Pharmacy (Diploma and Higher Diploma)
9. Dental Technology (Diploma)
10. Nursing (Certificate, Diploma and Higher Diploma)
11. Public Health (Certificate, Diploma and Higher Diploma)
12. Nutrition and Dietetics (Certificate and Diploma)
13. Occupational Therapy (Diploma and Higher Diploma)
14. Health Promotion (Certificate, Diploma and Higher
Diploma)
15. Orthopaedic Technology (Diploma and Higher Diploma)
16. Optometry (Diploma and Higher Diploma)
17. Physiotherapy (Diploma and Higher Diploma)
18. Medical Engineering (Certificate, Diploma and Higher
Diploma)
19. Short Courses
How to Apply for KMTC Courses 2021/2022
We welcome your application
Thank you for your interest in the Kenya Medical Training College. We are happy that you are looking closely at the exciting opportunities available here in KMTC.
KMTC seeks to enrol and graduate applicants who will develop and grow educationally and personally and will contribute to the College community, and the broader society.
To that end, the role of the Admissions and Records Office is to recruit, admit, and encourage enrolment of applicants who are spiritually mature, academically excellent, accomplished in extra-curricular endeavours, and broadly diverse through individualized review and professional judgment.
Applications: 
All applications are ONLINE from the application portal on this website www.kmtc.ac.ke.
The prospective candidates apply for admission into courses for each academic year for Regular or Parallel Category.
The Regular category have subsidized fee with optional accommodation but no choice for campus while the parallel category have non subsidized fee, no accommodation option but have option for campuses choice in more than sixty five (65) campuses situated in different parts of the country depending on the courses.
Application Procedure:
Prospective candidates are expected to visit the applicants' portal, read the advertisement to know the various courses and their specific entry requirements.
Candidates interested in making an application are advised to READ the application guidelines (preservice/Inservice) available on the application portal
Candidates are advised to follow the steps carefully given in the application guideline to the end to be sure of application success.
Take note that the application period has timelines as stipulated on the advertisement please observe them