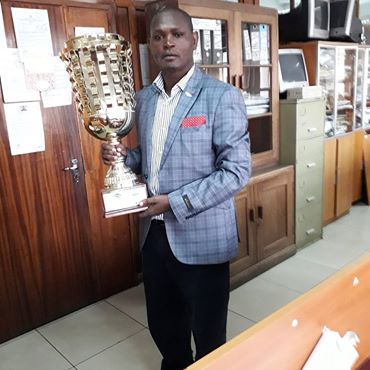 Kenya's representatives at this year's East Africa School Games will hold training camps in Kajiado before making their way to Tanzania. According to the Director of the Directorate of Quality Assurance and Standards in the Ministry of Education, Eliud Wambua, the training camps will enable the participants horn their skills before embarking on the trip to Tanzania. "Kindly, Regional Chairmen remember that the selected athletes are expected to report to Kajiado on Thursday 8th August, 2019 without fail," reads a communique by the Director; sent to the Regional Secondary Schools Sports Chairmen. "We also need to observe the travel times as per the regulations; as the students travel," adds Wambua.
This training is in a bid to improve the Kenya's performance in athletics where it lost to neighbours Uganda in some disciplines during the 2018 East Africa Games in Musanze, Rwanda. "This residential training period will shape up the team for better performance in Arusha," he adds.
Last year, Kenya won the overall Boys' Athletics gold medal with Uganda clinching gold in the girls' category. Kenya won a total of 28 medals in total; (for all the disciplines) that included: 10 gold, eight silver and 10 bronze to beat their close competitors, Uganda.
Uganda, finished second after grabbing a total of 25 medals; 9 gold, 10 silver and 6 bronze
According to an earlier communication by Mr Omusungu Quinto who is the Kenya Secondary Schools Sports Association (KSSSA) Vice Secretary General, other are supposed to arrive at Kajiado on August 12, 2019 for a brief training before travelling to Arusha. Referees who will be officiating at the FEASSSA games in Arusha are expected in Kajiado on August 14.
This year's games will be held in Arusha, Tanzania, from 18th to 24th August, 2019.
The following teams and participants will represent Kenya in Arusha:
Rugby 15's
1. Kakamega- Western Region
2. Dagoretti- Nairobi region
3. Kangaru School- Eastern Region
Rugby 7's
1. Upper Hill- Nairobi region
2. Laiser Hill- Rift Valley region
3. St. Peters Mumias- Western region.
Hockey- Boys
1. St. Anthony's Kitale- Rift Valley
2. Friends School Kamusinga- Western Region
3. Meru School- Eastern
Hockey- Girls
1. St. cecilia Misikhu- Western region
2. st. John's Girls- Coast Region
3. Nyamira Girls- Nyanza Region
Handball- Girls
1. Kirandich- Rift Valley region
2. Moi Girls Kamusinga- Western Region
Handball- Boys
1. St. Luke's kimilili- Western Region
2. Mbooni Boys- Eastern Region.
Basketball- Girls
1. Buru Buru- Nairobi Region
2. Kaya Tiwi- Coast Region
Basketball- Boys
1. Laiser Hill Academy- Rift Valley region
2. Dagoretti High school- Nairobi Region.
Soccer Under 20- Boys
1). St. Anthony's- Rift Valley
2). Dagoreti- Nairobi
Soccer Under 20- Girls
1). Nyakach- Nyanza
2). Itigo- Rift Valley
3). Arch Bishop Njenga- Western
Volleyball- Girls
1). Kwanthanze- Eastern Region
2).Cheptil- Rift Valley
3).Soweto- Nairobi Region
Volleyball- Boys
1). Mogonga- Nyanza Region
2). Lelmokwo- Rift Valley
Netball- Girls
1). Kaya Tiwi- Coast Region
2).Nyakach- Nyanza Region
Athletics List- Boys
| | | | | | | | | |
| --- | --- | --- | --- | --- | --- | --- | --- | --- |
| NO | NAME | TEAM | REGION | COUNTY | SCHOOL | DOB | EVENT | PERFO. |
| 1. | BRAVIN KIPKOGEI | I.COAST | R.V | EMC | KAMBATICH | 26/02/01 | 10,000M | 29:42.3 |
| 2. | SAMWEL LIMO | NAT | R.V | TNZOIA | KISAWAI | 03/03/00 | 10,000M | 30:27.7 |
| 3. | JOHNSTONE MELI | NAT | R.V | NANDI | KOIBAN | 03/08/01 | 5,000M | 13:57.8 |
| 4. | JACKSON KAVESA | NAT | EASTERN | K | KIVADINI | 3/09/01 | 5,000M | 13:57.6 |
| 5. | CORNELIUS KEMBOI | NAT | R.V | EMC | ST. PATRICKS | 29/02/00 | 1,500M | 3:42.5 |
| 6. | FELIX KORIR | NAT | R.V | W/P | CHEWIYET | 28/10/00 | 1,500M | 3:48.2 |
| 7. | FRANCIS LESHOO | NAT | NYANZA | KISII | MOGONGA | 06/07/01 | 800M 4X400M | 1:47.2 3:10.0 |
| 8. | GIDEON KIPLIMO | NAT | R.V | NANDI | KOSIRAI | 29/11/99 | 800M 4X400M | 1:48.1 3:10.0 |
| 9. | BENARD KIPTOO | NAT | R.V | EMC | KORKITONY | 06/02/01 | 400M 4X400M | 47.9 3:10.0 |
| 10. | BRIAN TINEGA | NAT | NYANZA | KISII | MOGONGA | 23/12/99 | 400M 4X400M | 46.4 3:10.0 |
| 11. | RONALD KOECH | NAT | R.V | BOMET | KOYIET | 02/01/00 | 200M 4X100M | 22.4 42.9 |
| 12. | CLEMENT KIPLAGAT | NAT | R.V | KERICHO | SOLIAT | 04/02/01 | 200M 4X400M | 22.7 42.9 |
| 13. | CYPRIAN MARAUNI | NAT | WESTERN | BUNGO | B.G HIGH | 05/11/00 | 100M 4X100M | 11.1 42.9 |
| 14. | DANIEL SIMIYU WASIKE | NAT | R.V | TNZOIA | FRIENDS | 10/10/02 | 100M 4X100M | 11.3 42.9 |
| 15. | VINCENT KIPROTICH | NAT | R.V | NAKURU | KAPSIMBOYO | 7/10/01 | H.JUMP | 2.00 |
| 16. | ELIJAH KIPKORIR | ICOAST | R.V | KERICHO | MUSARIA | 16/09/00 | T.JUMP | 15.20 |
| 17. | DENNIS KANGOGO | ICOAST | R.V | BARINGO | KABIMOI | 14/07/00 | T.JUMP | 15.15 |
| 18. | DOMINIC CHIRCHR | NAT | R.V | BOMET | KAPSINENDET | 19/04/00 | S.PUT | 12.30 |
| 19. | NATHAN KIBIWOTT | NAT | R.V | NANDI | CHEPTIL | 25/07/03 | DISCUSS | 40.48 |
| 20. | WILSON LETUNYEI | NAT | CENTRAL | NYANDA | KAMBAA | 10/07/00 | JAVELINE | 59.09 |
Athletics List- Girls
NO
NAME
TEAM
REGION
COUNTY
SCHOOL
DOB
EVENT
PERFO.
1.
FAITH KIPSANG
IVORY COAST
R/VALLEY
NANDI
ST. FRANCIS
L.JUMP T.JUMP H.JUMP
5.85 12.4 1.64
2.
ZEDDY CHESIRE
NATIONAL
R/VALLEY
NANDI
CHEPTONO N
H.JUMP
1.61
3.
DELVINE TARUS
NATIONAL
R/VALLEY
EMC
KETIGOI
14/07/00
T.JUMP
11.46
4.
FELICIA KANDA
NATIONAL
R/VALLEY
EMC
KAPSAIT
01/04/01
5000M
16:13.2
5.
ANNE NAASISHO
NATIONAL
R/VALLEY
KERICHO
SARAMEK
15/10801
3000M
9:26.8
6.
EMMACULATE ANYANGO
IVORY COAST
R/VALLEY
KERICHO
KIBUGAT
2/4/00
3000M
9:20.1
7.
JANETH CHEPKOECH
NATIONAL
R/VALLEY
KERICHO
SARAMEK
22/06/01
1500M
4:24.0
8.
VIOLA CHEPKURUI
NATIONAL
R/VALLEY
NAKURU
TULWET
03/07/02
1500M
4:25.6
9.
LEAH JERUTO
NATIONAL
R/VALLEY
EMC
KAPSAIT
12/05/00
800M 4X400MR
2:07.6 3:20.0
10.
NELLY JEPCHIRCHIR
I. COAST
R/VALLEY
NANDI
ST. FRANCIS
06/02/03
800M 4X400MR 400M
2:07.4 3:20.0 57.2
11.
LINDA KAGEHA
I. COAST
NYANZA
KISII
MOGONGA
04/02/02
400M DISCUS
53.7 38.0
12.
MERCY OKETCH
NAT.
NYANZA
KISII
MAGONGA
30/07/02
400M 4X400MR
57.3 3:20.0
13.
BEATRICE ODERO
NAT.
NYANZA
H/BAY
KAWUOR
31/05/01
100M 200M
12.2 25.8
14.
DELISHA ATIANG
NAT.
WESTERN
BUSIA
ECHAKARA
03/01/02
200M 4X100MR
26.1
15.
MWANAHARABU HUSNA
NAT.
WESTERN
KAKAMEGA
B/NJENGA
09/03/01
100M 4 X100MR
12.5
16.
PENINAH AKOTH
NAT.
NYANZA
MIGORI
OSINGO
11/2/2000
S.PUT
10.74
17.
SHARON MUKITE
NAT.
R/VALLEY
T/NZOIA
KWANZA
05/03/00
DISCUS
31.96
18.
IRINE JEPKEMBOI
NAT.
R/VALLEY
U/G
KAPTEBENG WET
05/03/04
JAVELINE
47.0
19.
DOROTHY JEPNGETICH
I.COAST
R/VALLEY
KERICHO
KAIBOKYET
28/02/01
JAVELINE
49.4M
20.
GLADYS JEPKEMBOI
NAT.
R/VALLEY
NANDI
KOSITANY
09/09/02
400M 4X400MR JAVELINE
57.9 3:20.0 44.36M
Also read;