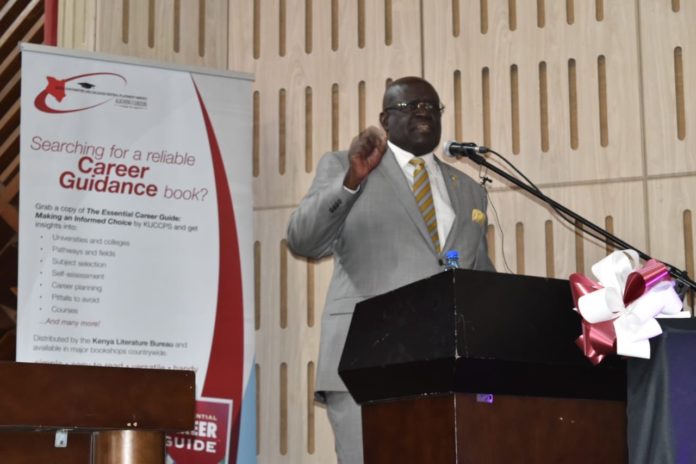 The Ministry of Education is seeking to promote the teaching of Science, Technology, Engineering, and Mathematics (STEM) subjects in Schools across the country. Through a circular dated 10th April, 2019, and sent to all County Directors of Education (CDEs), the Ministry directs schools to provide data on enrollment in Sciences, Applied subjects and available Science Laboratories and Workshops. The Circular by the Director General Statement for Early Learning Mr Elyas Abdi reads in part; "As you are aware, the teaching of STEM subjects is a major priority in Kenya's education system. In order to promote standards and quality of STEM Education, the Ministry directs that the County Directors of Education submit accurate data on the number of students taking STEM subjects and the number of science laboratories and workshops in schools." This is seen as a move to enable the Ministry make informed decisions on funding plans to enhance the teaching of STEM subjects in Secondary schools.
While releasing the 2019 Universities and Colleges placement results, on Monday 15th April- 2019, Education Cabinet Secretary Prof George Magoha castigated universities for turning a blind eye on Sciences. The CS noted that Humanities take a larger portion of Courses taught at Kenyan Universities.
"Another concern is the mismatch between the academic programmes offered in many of the universities and the development agenda.
Humanities programmes continue to account for the higher proportion of programmes compared to STEM programmes. This is a heavy threat to the realisation of Kenya Vision 2030 and the Big Four Agenda," said Prof Magoha at the Catholic University of Eastern Africa in Karen, Nairobi.
According to the CS, the government is keen on promoting teaching of STEM subjects so as to realize vision 2030.
"Going forward, I am asking universities to subject themselves to greater scrutiny and be aware that the government is keen to carry out the following measures:….Strengthening academic programmes that greatly contribute to the national and global development agenda (STEM), through increased provision of resources, including finances, facilities, equipment, infrastructure and human, for their support," the CS added. Read full details here; Report on placement of students to colleges and universities in the 2019/2020 cycle
A number of organizations are partnering with the Kenyan government to promote STEM subjects in the country. One of such organizations is the United Nations Educational, Scientific and Cultural Organization (UNESCO). According to UNESCO, 'since 2014, annual Scientific Camps of Excellence for Mentoring Girls in Science, Technology, Engineering, and Mathematics (STEM) are organized by the UNESCO Nairobi Office, together with the Government of Kenya, the National Commission for Science, Technology and Innovation, and the University of Nairobi organize annual Scientific Camps of Excellence for Mentoring Girls in Science, Technology, Engineering, and Mathematics (STEM).
These one week long camps involve career choice discussions, life skills mentoring, experience-sharing with STEM university students, science experiments, and industry visits.'
The Centre for Mathematics, Science and Technology Education in Africa (CEMASTEA) also works with the Ministry of Education to enhance the uptake and persuasion of Science, Technology, Engineering and Mathematics (STEM) courses right from the lower levels of education.
CEMASTEA has supplied teaching and learning equipment such as robotics kits, laptops, cathode ray oscilloscopes, LCD projectors, digital cameras, white-boards and light microscopes to selected model schools under the CEMASTEA STEM Model Schools program. This is alongside offering training to teachers on STEM subjects teaching.
Giant Telecommunications company, Safaricom, has also offered support to STEM subjects uptake by students through its BLAZE programme.
The STEM education and training applies inter-disciplinary research in learning and cognition, STEM integration, instructor development and evaluation and assessment to STEM teaching from early childhood through graduate education.