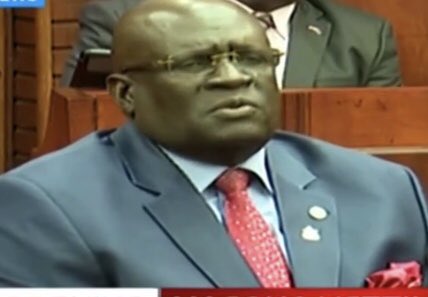 Professor Magoha(Pictured above) when he appeared for vetting at Parliament buildings today.
Education Cabinet Secretary nominee Prof George Magoha has promised that no learner will miss national examinations for failing to provide birth certificates. While, fielding questions from Members of Parliament during his vetting at Parliament buildings today, Prof Magoha said he will ensure all learners are treated equally.
"Under my watch, no child will be denied ability to take the examinations. We will ensure (that) by the time examinations come, every child in Kenya has a birth certificate and has joined NEMIS (National Education Management Information System)," promised Prof Magoha.
Magoha was responding to a concern by Kathiani Member of Parliament, Hon Robert Mbui, who said the requirement that all candidates provide birth certificate numbers could lock out many from sitting the KCPE and KCSE exams.
Magoha exuded confidence that he will succeed at the docket that was left vacant following the transfer of Dr Amina to the Sports Ministry. Magoha said 'failure has never been in my vocabulary' adding that he will fight for the equality of all learners.
MAGOHA ON IMPLEMENTATION OF NEW CURRICULUM.
The Educator CS nominee told Legislators that the new Competency Based Curriculum for grade 4 is almost ready. "The new Curriculum (CBC) is good; I urge Parliament to approve funding for it to succeed; I will seek adequate consultations and briefing before I hit the ground running. I will work with the Teachers Service Commission, TSC, to ensure CBC implementation succeeds; by September 2019, we will have targets for 2020," said the Professor.
MAGOHA ON EXAM LEAKAGES.
Magoha who has been the Chair to the Kenya National Examinations Council, KNEC, said he was perturbed by what he saw at the council; when he was appointed. Magoha says when he went to KNEC there were massive exam leakages. "There used to be no exams. Some Schools could buy the exams. There used to be two exams; one for this year and another for the next year," Magoha revealed.
"We came across cases where school cooks sing answers to examination candidates as candidates are in exam rooms; I don't trust anybody," said Magoha in reference to KNEC's directive to only have Centre Managers and their deputies at school during the exams period. The no nonsense former Vice Chancellor to Nairobi University has promised tough action this year against exam cheats. "We are still going to deal with this problem this year. This will be the last year. That mindset (of exam cheating) is there," he noted.
Magoha says cheating at National exams will be completed eradicated once the new Curriculum comes into effect. "We expect practice of cheating in high school to end once all KCPE candidates joining classes reach Form Four," he observed.
While fielding questions on the Biology Paper that was 'poorly' done last year, Professor Magoha (a neurosurgeon) said the paper wasn't poorly done as insinuated. "The Biology paper was reasonably well done because people who scored A plain were 87 and A- (minus) 415," he told the Members of Parliament.
MAGOHA ON REFORMS AT UNIVERSITIES.
The Professor took his good time to highlight on reforms he will steer at the Universities if given green light to head the Education Ministry. He noted that there has been massive proliferation of universities due to uncontrolled expansion. He says he will consider a proposal to consolidate universities that have similar faculties. "I will reform universities; we won't offer unapproved courses; we have to regulate setting up of universities," he promised.
On students taking unapproved courses he said; "You have to ensure that the degree you are taking is approved for that institution."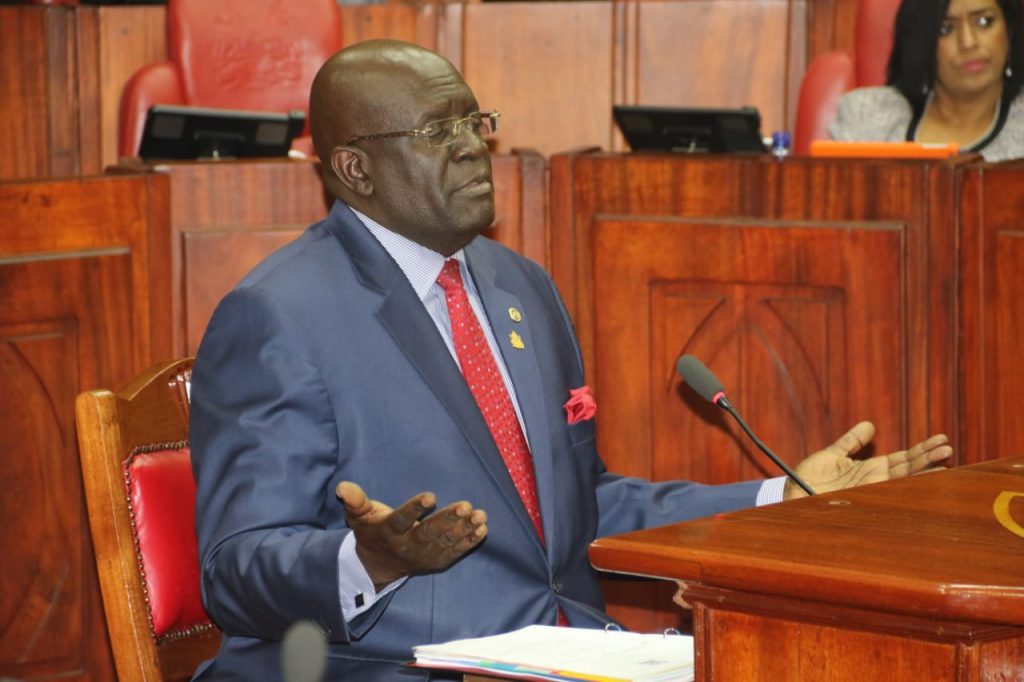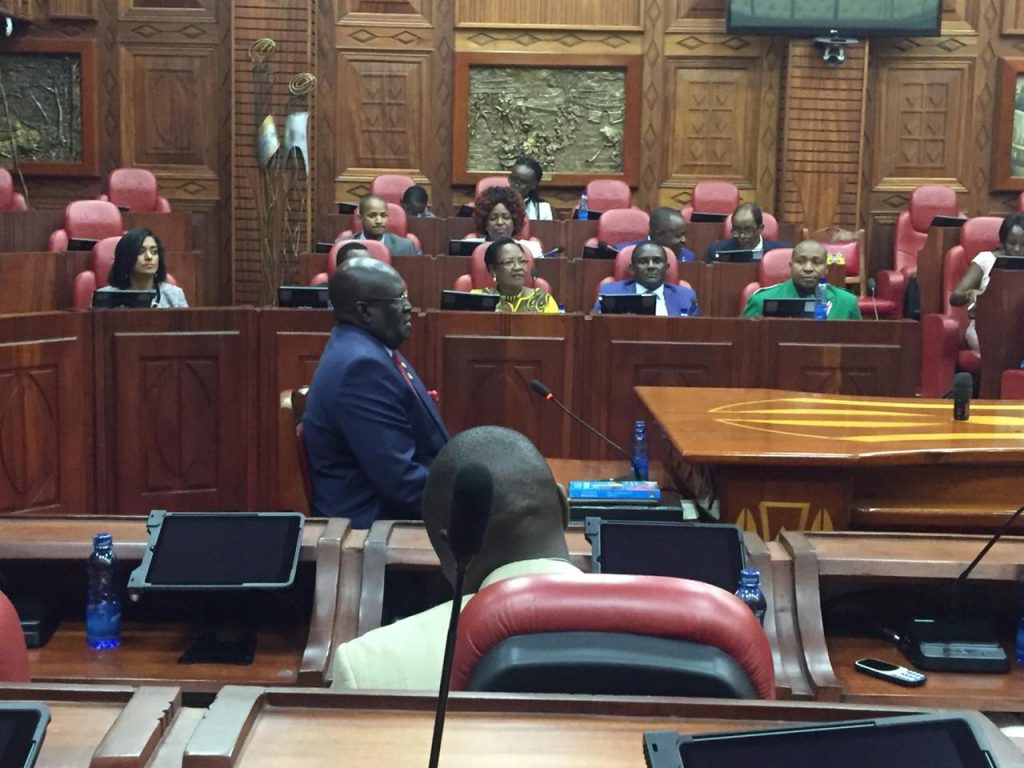 On proposals to increase University education, the Professor said there was need to increase the fees but by a reasonable amount. "In order for university education to be reasonable, there is need to rationalize the university system in Kenya. It is not fair to increase university fee by Sh. 48 000, but we can sit down with students and agree on a reasonable increment," said Magoha.
He failed though to comment on the proposal to lower entry grade to Teachers Training Colleges, TTCs, instead stating he will have to be briefed on the issue first and that he won't discuss his colleagues; past or present.
MAGOHA ON CORRUPTION ALLEGATIONS AT THE EDUCATION MINISTRY.
Professor Magoha has promised not to leave any stone unturned in the fight against corruption; that is bedevilling the Education Sector saying he will be unsympathetic to corrupt staff under his watch. He notes that Corruption is the biggest enemy to the Big 4 Agenda. "I will demand value for money if appointed CS. I urge for protection against politics," Magoha pleaded.
The tough taking Magoha said he will be on the necks of those who plunder public finances saying the Education Sector has been given enough money in the budget already. He said he will personally do physical audits of all projects at public learning institutions. "I was trained never to trust anybody, that even when you delegate, you never delegate completely because if you delegate completely then you lose control…," he jovially said.
MAGOHA ON SEX EDUCATION
The Professor said sex education is the responsibility of parents. "Parents should take the responsibility. I'm a strong catholic and my faith is totally against it," he said.
MAGOHA TO ACT TOUGH ON SCHOOL HEADS 'PLUNDERING' PUBLIC FINANCES.
The nominee has strongly warned school heads who exaggerate prices of food stuffs thus inflating Lunch Programme fees. He was making reference to MPs concern that some school heads exaggerate prices of food stuffs like maize forcing parents to pay excessively towards the Lunch Programmes. "Anybody who chooses to plunder government properties under my watch, I want to assure this committee that I will not be sympathetic to such a person," Magoha warned.
Magoha had a piece of advice for the Members of Parliament, though; "If I'm appointed to this position through your approval my door will be wide open for all of you (MPs) but you will also have to consider that I have targets to meet, you do not expect me to sit down the whole day attending to you (MPs).."
READ ALSO: