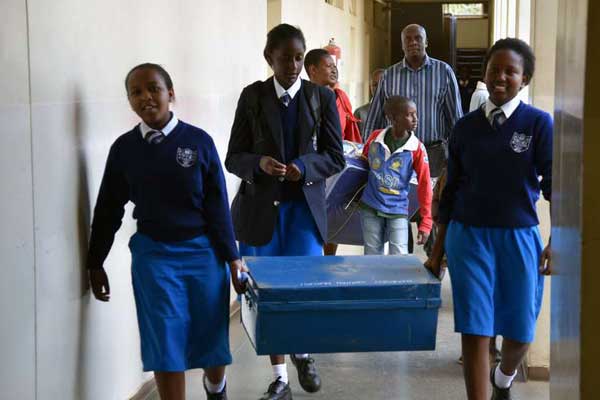 The Ministry of education has released the 2020 revised school calendar (Revised 2020 term dates) for all primary and secondary schools in Kenya. In the revised dates, all PP1 and 2; Grade 1, 2 and 3; Class 5, 6 and 7; and Form 1, 2 and 3 learners will resume their 2020 second term on January 4, 2021.
"Following the stake-holders' consultation, the revised term dates were agreed on in order to cover the remaining two terms of 2020 school calendar and stabilize school calendar by December 2020." Reads a circular by the Ministry of Education and titled; 'RE: SCHOOL CALENDARS FOR YEARS 2020, 2021, 2022 AND 2023- REVISED TERM DATES FOR PRE-PRIMARY, PRIMARY AND SECONDARY SCHOOLS AND TEACHERS TRAINING COLLEGES'.
According to the revised term dates, there will be no half term in second term as the teachers race against time to recover lost time; occasioned by the prolonged closure of schools due to the covid 19 pandemic.
Term 3 of 2020 will kick off on May 5, 2021 to July 16, 2021. Both Term 2 and 3 have been shortened and will run for 11 and 7 weeks; respectively.
2020 TERM 2 AND 3 REVISED SCHOOL CALENDAR (TERM DATES) FOR CONTINUING LEARNERS
| | | | |
| --- | --- | --- | --- |
| Activity | Opening Dates | Closing Dates | Duration |
| Term 2 | 4/1/2021 | 19/03/2021 | 11 weeks |
| Holiday | 20/03/2021 | 9/5/2021 | 7 weeks |
| Term 3 | 10/5/2021 | 16/07/2021 | 10 weeks |
| Half-term Break | 3/6/2021 | 7/6/2021 | 3 Days |
| Holiday | 17/7/2021 | 25/7/2021 | 1 week |
Related News;