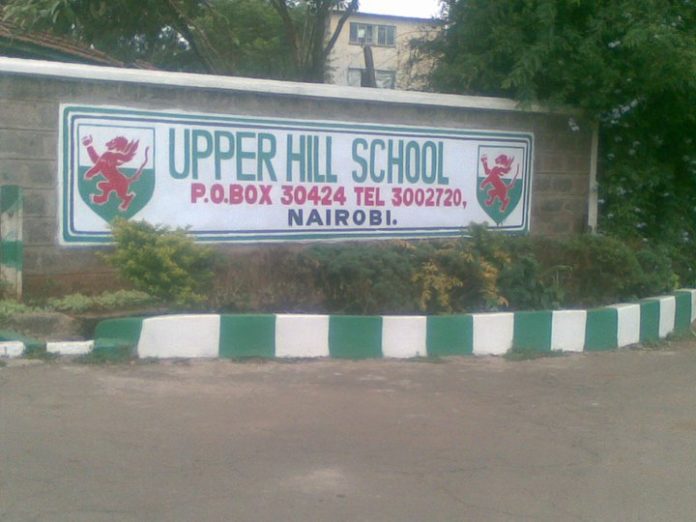 Upper Hill Boys' High school is one of the best schools in the country. Located in Kenya's Capital City, Nairobi, the school is not only known for its impressive performances in academics but also a good track record in Co-curricular activities.
This article provides complete information about this school. Get to know the school's physical location, directions, contacts, history, Form one selection criteria and analysis of its performance in the Kenya Certificate of Secondary Education, KCSE, exams. Get to see a beautiful collation of images from the school's scenery; including structures, signage, students, teachers and many more.
 For all details about other schools in Kenya, please visit the link below;
UPPER HILL SCHOOL'S PHYSICAL LOCATION
Upper Hill Boys High School is located in Nairobi, Kenya.
UPPER HILL

SCHOOL'S INFO AT A GLANCE
SCHOOL'S NAME: Upper Hill Secondary School
SCHOOL'S TYPE: Boys' only.
SCHOOL'S CATEGORY: Extra County
SCHOOL'S LEVEL: Secondary
SCHOOL'S LOCATION: located in Nairobi, Kenya.
SCHOOL'S KNEC CODE: 20405002
SCHOOL'S OWNERSHIP STATUS: Public
SCHOOL'S PHONE CONTACT:
SCHOOL'S POSTAL ADDRESS: P.O Box 30424, Nairobi 00100
SCHOOL'S EMAIL ADDRESS:
SCHOOL'S WEBSITE: https://upperhillschoolkenya.ac.ke/
UPPER HILL SCHOOL'S BRIEF HISTORY
Lord Delamere, a British Settler founded the School in 1956 and was initially named after him "Delamere School".
It was mainly for Europeans Boys and Girls who could not make it to Duke of York (now Lenana School) or Prince of Wales (now Nairobi School) which were the only Schools European Children attended. In 1959, the Girls remained at Lady Delamere Girls (now State House Girls) while the Boys moved to Lord Delamere School.
In 1969, the School changed its name to "Simba Secondary School " then later to the present Upper Hill School, named after the Area and Road where the School is situated. It is located along Upper Hill Road, next to the British High Commission Offices and Don Bosco Church on the same Road and rests on a 13.6 Acres piece of Land.
Beginning the Year 1997, the School began to change gradually from Day to Boarding and finally became Full Boarding in 2004. It currently accommodates 1000 Students who all board. Initially, the Delamere Hostels hosted the few Students who were Bright and Needy then but over the Years, more Dormitories had to be put up to facilitate the necessary numbers.
Currently, the School has 17 Dormitories, a Modern Computer Laboratory, Multi-purpose Hall, Science Laboratories, Administration Block and 20 Classrooms(Tuition Block), a Library, Kitchen and Ten Houses for the Resident Teachers. The School has 12 Heads of Department and 45 Subject Teachers( 7 on Teaching Practice), 34 Non-Teaching Staff and 1000 Students. The Student Body is divided into Five Streams per Class named after Colours – Red, Yellow, Blue, Green, and White. The School Motto is "Strive for Excellence" and its Vision is "To be a Leader and a Role Model Academic Institution of Choice both Nationally and Internationally"
FOR A COMPLETE GUIDE TO ALL SCHOOLS IN KENYA CLICK ON THE LINK BELOW;
Here are links to the most important news portals:
UPPER HILL SCHOOL'S VISION
UPPER HILL SCHOOL'S MISSION
UPPER HILL SCHOOL'S CONTACTS
In need of more information about the school? Worry not. Use any of the contacts below for inquiries and/ or clarifications:
Postal Address: P.O Box 30424, Nairobi 00100
UPPER HILL SCHOOL'S FORM ONE SELECTION CRITERIA & ADMISSIONS
Being a public school, form one admissions are done by the Ministry of Education. Vacancies are available on competitive basis. Those seeking admissions can though directly contact the school or pay a visit for further guidelines.
UPPER HILL SCHOOL'S KCSE PERFORMANCE ANALYSIS
The school has maintained a good run in performance at the Kenya National Examinations Council, KNEC, exams. In the 2018 Kenya Certificate of Secondary Education, KCSE, exams the school registered a total of 225 candidates who managed to score a mean of a B+(plus) with a performance index of 66.854.
Also read;
 For all details about other schools in Kenya, please visit the link below;
UPPER HILL SCHOOL'S PHOTO GALLERY
Planning to pay the school a visit? Below are some of the lovely scenes you will experience.
Also read: