European's most popular club football, UEFA Champions League, makes a come back, tonight and tomorrow night. Check the fixtures and Television Schedules, below, so that you do not miss the action: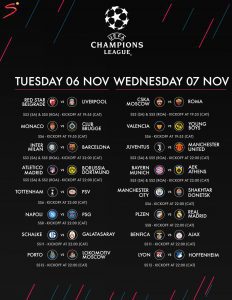 Below is a list of big clashes featured on Super sport this month, November 2018:
Elsewhere, It is good news for Spanish giants Real Madrid's fans after the Football Club installed television screens on all urinals at the Santiago Bernabeu stadium.
The fans will now have the chance to watch every minute of the club's home games even if they find themselves in the washrooms.