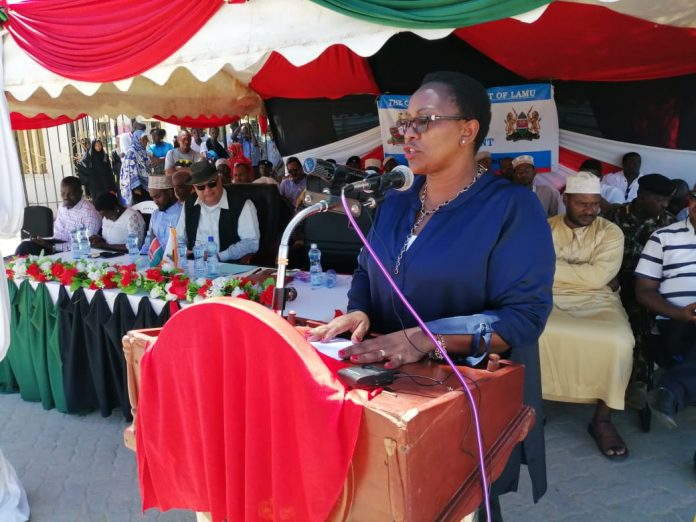 The Government has refuted claims that it intends to increase the monthly National Hospital Insurance Fund, NHIF, contributions for Kenyans benefiting from the medical scheme. This comes after the local dailies carried a headline story yesterday, Thursday November 2018, claiming that the government intended to increase the monthly subscriptions to two percent of the employees' salaries.
Through the Cabinet Secretary to the Ministry of Health, Sicily K. Kariuki, said 'the government does not intend to raise NHIF monthly deduction for workers to 2%. When the time comes for any increase, public participation, including that of the workers will be undertaken.'
Meanwhile, the government continues to register all house holds in readiness for the roll out of the Universal Health Care in December. "In preparation for the launch of  the Universal Health Care by H.E. Uhuru Kenyatta in December (2018), the Ministry of health is undertaking registration of all households in the four pilot counties: Kisumu, Isiolo, Machakos and Nyeri," said CS Kariuki yesterday.
The CS said the registration will be done from house to house to ensure all Kenyans are registered. "Registration will be done door to door over the next couple of weeks. Each household shall receive a Universal Health Care Card. Kenyans in these four pilot counties can, upon the Universal Health Care launch by H.E. Uhuru Kenyatta, access services in public health facilities," CS Kariuki added.
Photo- Health CS, Sicily Kariuki, on an immunization drive, recently. The Ministry of Health has assured Kenyans of the highest level of Ebola outbreak preparedness measures put in place to safeguard against any risk of an outbreak, even as it continues to strengthen resilience to public health emergencies.
Universal Health Care is one of the President's agenda in the big four agenda.