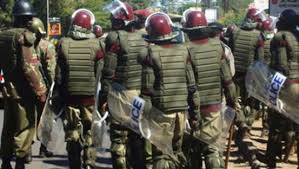 The underlisted applicants have been shortlisted for interview as General Service Officer (GSO) Cadets and Specialist Officers.
The GSO candidates are required to report to the Kenya Military Academy (KMA) – Lanet, Nakuru on 29th December 2019 at 0800 hrs (8.00 am).
The Specialist Officers candidates are to report to the KMA – Lanet, Nakuru on 12th January 2020 at 0800 hrs
(8.00 am). Successful candidates will be considered for recruitment into the Kenya Defence Forces.
All candidates must bring with them original national identity card, birth certificate, academic and professional certificates, curriculum vitae and any other testimonials. Feeding and accommodation will be provided during the period of interview.
Unsuccessful candidates will be reimbursed reasonable road travelling expenses subject to production of proof in accordance with Kenya Defence Forces regulations.
a. General Service Officer (GSO) Cadets
NAME $ ID NUMBER
Abala Brian Meshack 34716206
Abdi Ali Said 35924028
Abdi Mohamed Huka 33262763
Abdi Nassir Isaack 32888136
Abdikadir Adan Abdikadir 37370174
Abdub Sora Liban 33479116
Abdub Ali Wako 38450912
Abdulahi Hussein Mohamed 32792088
Abenga Robin 38411861
Abok Macleans Dan 37785893
Abubakar Mbarak Salim 31009247
Abudho Umuro Orto 34204451
Adam Bilal Mohammad 32133423
Adan Abdi Mohamed 37355704
Adan Ahmed Hassan 37925743
Adhan Hassan Ahmed 35178545
2
Agingu Bolton Ayieko 34642508
Ahmed Abdi Osman 36713930
Ahmed Adan Yussuf 35209661
Ahmed Ahmed Bwanaheri 33535497
Ahmednasir Mohamed Nur 38196763
Aikwari Isaiah 32791888
Akinyi Nigel Omondi 32543511
Akoyo Felix Mandela 32729472
Akupa Mark Omondi 31892731
Ali Ali Hanzwani 32486525
Ali Fakwema Mwalimu 33472500
Ali Hamis Ngedzo 32858807
Ali Mohamed Ali 32205598
Ali Omar Ali 37651709
Alio Osman Ibrahim 30516582
Alusi Muimi 35881472
Aly Yusuf Omar 32807945
Ambia Eric Isoe 31323383
Ambula Yvonne Lwegado 34045381
Anelyne kwamboka Arumba 32625532
Antony Juma 30643150
Anyango Sharon Akoth 33358018
Athman Said Kassim 32211573
Awino Nicholas Onyango 34628635
Awuor Fredrick Omondi 32496157
Bakari Omar Omara 33485743
Balicha Dennis Maitha 33923675
Banchiri Prisca Mekenye 32939144
Barasa Kelvin Wanjala 33087194
Barasa Robert Wamalwa 37376471
Baraza Amos 31859272
Barngetuny Evans Kibitok 36693018
Bashir Ibrahim Amhed 35876666
Begi Amarose Atera 37530602
Begi William Maranga 34703139
Bett Amos Kipkoech 33881610
Bett Brian Kibiwot 38051802
Bett Leonard Kipkorir 33335901
Bett Newman Kipkoech 34325099
Bitok Collins Kipkoech 37524154
Biwott Cornelius Kipkoech 33495668
Bomtich Elius Chebii 35680473
Bonaya Halkano Qalla 34218574
Boru Dida Jarso 34191749
Boya Abdulaziz Abdullahi 37115416
Bramwel Biwale Michah 38269071
Brian Sony Ogutu 33629883
Brian Ngetich 32498772
Budzuma Said Suleiman 32932625
Bwire Bucery Zadock 35791225
Changa Elizabeth Rehema 33388348
Chebii Boniface 30136741
Chelanga Hillary Kipkorir 33782943
Chelanga Jacob Korir 31246395
Cheminingwa Benson Kiprotich 34442415
Chengo Emanuel Katana 33711977
Chepchumba Ivy 34966183
Chepiton Joseph 34429107
Chepkasi Dorothy Cheyech 34996989
Cherotich Fancy 35126277
Cheruiyot Gilbert Ngeno 31815843
Cheruiyot Edwin Kiplimo 33983205
Cheruiyot Gideon Kipkoech 32631753
Cheruiyot Granton Kipkogei 30876938
Cheruiyot Kelvin 35251798
Cheruiyot Peter 34470810
Cheruiyot Silas 33302369
Cheserek Elkana 32827915
Chisope Brilian 33368384
Chriswel Lankisa Kipees 35546649
Chumba Casmir Kipruto 33123058
Clinton Lusuli 30633245
Collins Kiplangat 36729303
Condrian Akutia Ekadon 37154980
Cornelius Kimutai Rotich 33266995
Cynthia Nyachama Gekonge 34636490
Daino Daino Chengo 37355901
David Mohono Mwita 33090143
Dennis Nyaga Waweru 32764902
Dickson Italia Ngeno 32645931
Dida Galgalo Wako 33545592
Digodziru Mohamed Mwakutanga 30745768
Domoo Bronce Rutto 31753037
Dzombo Kennedy Tunje 33486704
Ebenyo Joel Emojong 33429989
Echakara Basola Ekiru 35314095
Egessa Navier Mukisa 32601321
Eiyen Erick 34528914
Ekure Elijah Lopeyok 34436791
Elema Kalicha Wako 32175883
Emoni David Lokurichana 31910603
Emuria Samwel Esuguru 35906572
Eregae Edward Ekaru 34616756
Evans Musyimi Munywoki 33943827
Evans Yegon Kiprono 32777416
Fadhil Said Sheikh 37629123
Fredrick Cheruiyot 33804038
Gachau William Mwangi 37908675
Galgalo Jirma Galgalo 38732577
Gambare Fredy Galah 37056424
Gerald Tyson Kimathi 33558621
Ghosia Onesmus Shuma 33402523
Gichohi Mary Wanjiru 38126491
Gichovu Cliff Wachira 32998754
Gideon Kyala Mwandi 32628755
Gilbert Kibor Kebut 33051536
Giro Jibril Abdikadir 34415659
Gitari Collins Mutuma 30755881
Gitari Joseph Njagi 33905894
Gitau Anne Wambui 33149978
Gitau George Wanjohi 33301932
Githiri Samwel Mukundi 32298583
Gitonga Kelvin 32440265
Godana Mamo Badhole 32556660
Gufu Halakhe Galgalo 32522366
Guyo Yahya Jaldesa 36135461
Hassan Musa Hassan 33318469
Hassan Ibrahim Riziki 33296869
Hassan Mohamed Osman 34792217
Huka Asha Waqo 32252406
Hussein Abdirashid Mohammed 38221947
Hussein Abdub Hassan 32350344
Hussein Ali Amin 33873328
Hussein Hamisi Juma 37330643
Hussein Maslah Abdulah 33109416
Hussein Mohamed Issack 34148347
Ian Lemaiyan Maseine 33395357
Ian Kipngeno Marindany 33725560
Ibrahim Abdi Abdulahi 37858301
Ibuya Kennedy Chegem 31952778
Ilako Richard Muimi 32445731
Ilyas Kazungu Jabir 32340197
Imaly Daniel Apolos 31932680
Indika Nelson Aseka 30814469
Ingoka Pascal 33364154
Jackan Walaghe Kajumwa 32925990
Jalle Dennis Hirkena 29685782
Jamal Kuyo Said 35323176
Janes Paul Okombo 31724942
Jefwa Thomas Karema 37288441
Jemba Allan Chesutek 33438226
Jeremiah Saningo Ntiyani 35455285
Jilani Cleragy Mwanudza 36934152
John Gathogo Kariuki 30740040
Joseph Michael Ogidi Obenga 34258061
Josephat Wamai Maina 32418187
Joshua Mengashu 33272060
Julian Musangi Michael 33259039
Juma Caleb Wekesa 33009348
Juma Stephen Kingori 33249224
Justo Omany Gamaliel 32546825
Kaaru hezbon Kamau 35358907
Kabiru Wilson Mwangi 33138888
Kagecha Micah Muigai 32613802
Kagwanja Philip Githaigah 30640657
Kahia John Wairumbe 34503609
Kairu Elvis Mwangi 32985739
Kalama Albert Fondo 33708726
Kamau Bryan Mutuku 36915053
Kamau Jackson Mbugua 33413549
Kambi Kaingu 36737399
Kamene Jessica Wambua 33380045
Kanake Shadrack Mutuiri 33593142
Kangogo Peter Korir 33554312
Kangor Jared Kimitei 34515961
Kanyiha Kennedy Wamukuru 32595610
Karere Dennis Munene 33735386
Karisa Peter Masha 37836434
Karisa Teddy Chai 32573337
Kariuki Paul Karanja 34946678
Karuri Charles Kioi 33419519
Kassim Ali Hassan 34144998
Katana Ennocent Masha 32939144
Katana Nelliam Ndegwa 35053523
Katik Benard Mbithi 33412320
Kaunda Bruce Kinyua 33122083
Kavita Samuel Kitonyi 31729041
Kavoo Fredrick Mutua 31818783
Kazungu Patrick Masha 33435842
Kebeya Ian Joseph 36930421
Kelvin Gachara Papai 33294953
Kelvin Ndigwa Nyangoka 37544401
Kelvin Kipkoech 33293299
Kelvin Koech Kipngetich 33300622
Kelvin Langat Kipkoech 33100672
Kemboi Cyrus Kibet 33676918
Kemboi Dominic Kipkoir 33831289
Kemboi Elvis Kiplagat 30612364
Kemei Philemon Kipkosgei 32638987
Kenga Thomas Mwadena 34585064
Kengere Benjamin Kumenda 33337276
Kennedy Omondi Obungu 33065877
Kennedy Otieno Wanga 32179171
Kenyatta Richard Orioki 34452507
Ketah Rodgers Kingsley 32457721
Keter Justice Kipkoech 33604490
Kevin Waweru Ngure 33290175
Khonde Michael Thuva 36813316
Kiburio Brian Chege 32887202
Kienje Peter Muchuku 33153821
Kihoro Morris Mwangi 33428116
Kihuga Reuben Ndungu 37766412
Kijanzi Wilfridah Sirite 35259443
Kilukei Kirrinkol 37933596
KimachioJohn Kirema 31236746
Kimanja George Maghanga 33273096
Kimanzi Kelvin Mwikya 30558411
Kimemia Samuel Chege 32497758
Kimeu Jonah Muoka 32679933
Kimunjos Isachar Kipngeny 33767461
Kimutai Hillary 32360010
Kinoti Jossy Kinya 33229071
Kioko Anthony Nzivo 32456859
Kipchirchir Dickson 32402677
Kipgetich Enock 34577444
Kipkemei Robert 38241996
Kipkirui Aron 37968652
Kipkoech Ezra 34315278
Kipkoech Kelvin Sawe 33638886
Kipkoech Patrick 33576844
Kipkulei Dairus Chesire 33975916
Kipkurui Collins Langat 30940518
Kipkurui Peter Kipyator 33033865
Kipkurui Victor 34525805
Kiplagat Brian Kipchumba 33735401
Kiplangat Prince Kimutai 33400703
Kiplangat Walter Kiprotich 33128801
Kiplimo Allan 35311256
Kiplimo Kelvin 32915192
Kiplimo Robert 35225130
Kipngeno Collins 35233423
Kiprono Evans 3560511
Kiprono Silas Kipsang 34156541
Kiprop Eliud 34541104
Kiprotich Collins 37565179
Kiprotich Emmanuel 35101825
Kiprotich Gideon 36338702
Kiprotich Simon Kiprop 34879924
Kipruto Collins 36908561
Kipruto Kenedy 33225237
Kipsang Nelson Fredrick 28563941
Kiptoch Felix Murunga 32964775
Kiptoo Bett Silas 33102224
Kiptoo Caleb Kibon 37232324
Kiptoo Kiptoo Gideon 33094714
Kiptum Kirwa 32783259
Kiramana Eric Muthomi 32560396
Kirema Frankline 32283794
Kiriga Clifford 38040174
Kirui Britty Rotich 32502046
Kirui Cherotich Gertrude 31852886
Kirui Edgar Kimutai 28806632
Kirui Emmanuel 32931611
Kirui Japhet Kiprotich 32157830
Kirui Kennedy Kipngetich 34839034
Kirui Leonard Kibet 31989433
Kirui Patrick Kipyegon 33933612
Kisa Joshua Kiplangat 33163905
Kiso Kevin Ruto 32543174
Klunga Daniel Kiprop 35950739
Koech Kiprono Billy 34643197
Koech Jonathan Kipserem 32117990
Koech Aldrich Kipkurui 38035521
Koech Benjamin Kimutai 32242623
Koech Gilbert Kimutai 33353458
Koech Raymond Kipkorir 32965084
Koima Geofrey Kipgetich 35018868
Kokulei Peter Adoket 34166656
Kombo Dominic Kisembe 32722011
Kombo Naom Gechemba 34911693
Korima Harrison 35718658
Korio Nicholas Kirintany 33789658
Korir Brianton Kiprotich 38406595
Korir Erick Kiprop 35811691
Korir Evans Kiplangat 35360849
Koros Hillary 33611736
Kosgei Dan Kikorir 34930668
Kosgey Brian Kipchumba 35206608
Koskei Gilbert 32475972
Kowino Joel Odhiambo 32846724
Kulateen Ahmed Mwenye 34033185
Kumomoru Benard Parsimei 34834544
Kunno Adan Boya 32252341
Kuria Brian Kamau 37684086
Langat Amos Kipkurui 33611400
Langat Denis Kipkoech 32118884
Langat Dennis Kipkorir 36416279
Langat Festus Kipkirui 32923576
Langat Ken Kipruto 35256937
Lasisi Simon Suyianka 34581986
Laura Akinyi Odiwour 33323694
Lekaitogo Jacob Mpapaiye 34477809
Lekarabi Kelvin Lemon 36938457
Lekein Solomon Tenik 34254996
Lekurtuma Joel Sokoni 33090967
Lelei Kenneth Kibet 31779527
Lemaiyan Mark Ntiti 33600037
Lenaitamany Samuel Loretu 37492759
Lengerded Francis Saidiki 37718973
Leon Njoroge Chege 35732366
Leposo John Pemba 37842686
Lerno Andrew Lobulu 34921883
Letting Felix Kiptoo 33154572
Liban Boru Buke 34347298
Ligawa Kennedy Ochieng 36481329
Lobuin James Lokoel 31964744
Lokal Gary Plimo 33848925
Lokalei Brian Loru 33993492
Lokeno Purity Chebet 33349673
Lolmudooni Daniel Ntimama 34059406
Longor Simon Epur 36767505
Loonkushu Alfred Sameri 32838269
Lotiang Edwin Kiptoo 35081826
Lotik Marisela Kakiem 38218971
Lotin Johnson Aletia 33440955
Lukale Wicklife Nambande 33757932
Lynette Nkirote 32588993
Macharia Eric Njuguna 32485401
Magare Micah Nyambane 33415669
Maina Julius Kanyiri 34174536
Maina Samuel Mwangi 32321427
Maiyo Brian Kipruto 30644775
Maiyo Elias Kipkeny 36570876
Makatum Gerald Muturi 32872989
Maket Philip Biwott 34047260
Malusi Barnabus Mulandi 33193489
Mangi Robby Yaa 34669610
Mangoli Laureen Siongo 37679045
Mapena James Ntele 35455285
Maragia Samwel Antony 33650644
Marere Jesse 33081522
Marsdine Kimutai 36723610
Masabu Karen Anzemo 32609990
Masaki Kevin Moturi 34466510
Masaku Michael Muema 34315799
Matata Mutuku 33242958
Matano Thoya Kahindi 32195954
Matheka John Musembi 32586969
Mathu Stephen Muturi 29375520
Matum Gideon Kipyeko 35877064
Maximilah Longelech Akiru 32917073
Mbae Justus Mwanzia 34933582
Mbondo Danvick Muli 38167426
Mboya Luke Omondi 37620560
Mbugua James Kinyanjui 33775318
Mbugua Martin Kariuki 37452371
Mbura James Mwiti 32809007
Mburu Dennis Murimi 35517294
Mburu Peter Nganga 36565106
Mbuthia Peter Mwenda 33571734
Mbuvi John Nzoli 33552478
Mdigo Khamisi Juma 32596634
Meitekini Wilfred 34585180
Melita Mandela Meitamei 37940311
Mgomba Devis Banda 32292402
Michah Bramwel Binale 38769071
Minubi Shaban Ekiyayi 34333010
Mkala Esther Munyazi 37824343
Mkare Elius Huruma 37624942
Mogesa Nelson Mandela 36602836
Mohamed Amin Ahmed 33487387
Mohamed Ibrahim Adan 38458761
Mohamed Isack 32943296
Mohamed Yusuf Wako 33674834
Mohammed Ibrahim Rajab 33532005
Moirore Gideon Lerionka 30973605
Mokaya Dorcah Kerubo 32655155
Molu Adan Molu 35168159
Morei Kevin Tumwet 37029155
Moris Plimo 36996273
Morongo Kaiyok Saitoti 33627195
Mosaisi Margaret Bosibori 36932776
Moses Gatero Wachira 31159453
Moses Nafuko 34430722
Mosoba Paul Nyankomo 31401645
Mpapaiye Jacob Lekaitogo 34477809
Mramba Anthony Robert 32358118
Msolini Harison Mwalicho 33325888
Mtenga Michael Matata 32243542
Mtsumi Aly Mohamed 32932078
Muchai Duncan Githuka 32643192
Muchira Maureen Muchira 32633637
Muchiri Anthony Maingi 32191412
Muchoki Joyceline Wambui 32816420
Muema Christopher Mwandikwa 32455510
Muema Clinton Nzimbi 33440059
Muema Fidelis Kisaingu 34378586
Mugao Eric Muregi 32640472
Muge Dan Sikoa 31632647
Mugo Fredrick Kamau 34165005
Muhammad Adan Galgalo 32694694
Muigai Martin Karimba 34358437
Mukiri Pauline Wanjiku 33926480
Mulandi Collynes Kelly 33823828
Muli Josephat Ndonye 31673702
Mulwa Juliet Wanza 32928630
Munyao Isaac Musyoki 35584849
Munyi Stephen Kianga 31989095
Muranja James Maina 33705801
Muraya Paul Mwaura 32504694
Mureithi Brian Chomba 32410717
Muriuki Christopher 32290990
Muriuki Fredrick Wairegi 32439354
Muriuki Kennedy Bundi 32271711
Muriungi James Murimi 34932898
Musa Jaafar Khamis 35062187
Musau Andrew Nyamai 33111420
Musau Shadrack Mulani 34154974
Musee Kennedy Musau 33148999
Musto Henry 35961925
Musuko Moses Koshole 38234100
Musyimi Evans Munywoki 33943827
Musyoka Charles Nzau 34887543
Musyoka Christopher Mutua 31582533
Mutai Ian Kipyegon 38340175
Mutai Rodrick Kibet 33184570
Muthama Vincent Musyoka 33326190
Muthee Caroline Njeri 32856153
Muthee Joseph Mwangi 32416313
Mutheu Stacey 32300527
Mutie Michael Muuwo 32636354
Mutinda Alex Mutiso 33057562
Mutindi Jonathan Mukila 32579138
Mutio Amos Juma 31343980
Mutisya Elizabeth Mbatha 32043265
Mutisya Lawrence Mwongela 32598194
Mutua Patrick 33212359
Mutuku Ambrose Kisila 37098705
Mutuma Collins Gitari 30755881
Mutuma Roy Muchui 33065702
Mutwiri Mugambi Kelly 33347276
Mwachongo Tevin Mwangima 34337801
Mwakiwiwi John Kombo 32791365
Mwakwambirwa Said Sudi 30650563
Mwalimu Joseph Mueke 32612958
Mwalugha Mathew Massawe 37632619
Mwambao Alex Kai 32663005
Mwambao Anderson Reuben 33048187
Mwandawiro Caleb Mwaiseghe 33430993
Mwangangi David Musyoka 33720732
Mwangi Brian Kiruki 37502458
Mwangi Duncan Karumba 33212080
Mwangi Esther Wangeci 31983407
Mwangi Julius Kamuro 32842109
Mwangi Kevin 32938886
Mwangi Mwaniki Charles 33182074
Mwaniki Kennedy Munyua 32109426
Mwaniki Vincent Ngari 32438197
Mwanzonga Herbert Mulanda 34993082
Mwarandani Hamisi Juma 32749594
Mwaruah Michael Sirya 31643600
Mwasalaba Kissim Sudi 33817868
Mwashughuli Hamisi Bakari 32246007
Mwasi David Ondari 33031441
Mwende Daisy Mutuku 32541741
Mwende Irene Mutuku 38373672
Mwinga Lynn Thoya 33633394
Mwirigi Boniface 33363482
Mwongera Dorothy Kajuju 31761759
Namasaka Kevin Wesakana 32490636
Napoya John Sopina 35013004
Ndagara Julius Murimi 33666206
Nderitu Erick Kiboi 31736478
Ndiku Bruce Kimanthi 37431627
Ndirangu Moses Mburu 32989689
Ndolo Elizabeth Wavinya 31789821
Ndunda Nickson Kyalo 32755801
Ndungu Balozi Chege 30185446
Ndungu Kevin Mahiga 33238734
Ndura Samwel Kahiu 34312310
Nekesa Samantha Barasa 33914352
Nellius Mbuva Ndunge 33390245
Nepatao Brian Saitoti 33399014
Ngandi Daniel Jira 32181022
Ng'ang'a Karemeri Justan 33585318
Ngare Marchel Otieno 34257786
Ngari Francis Ngugi 33750213
Ngari Hezekiah Njagi 34261399
Ngau Samuel Musyoki 34354339
Ngetich Isaac Kimutai 32020737
Ngoko Dennis Nyokoe 34208986
Ngososei Ephram Kipruto 32631412
Ngotho Gilbert Kiigi 37061494
Nigasio Victor 38467069
Njagi Jonah Magu 33981676
Njagi Vincent Njiru 34160926
Njambi Pauline Mukui 30780420
Njaramba Nancy 33637314
Njogu David Nganga 33563590
Njogu Kelvin Kinyua 33611838
Njoroge Christopher Ndungu 34707832
Njoroge Sammy Duncan 32462128
Njoroge Samuel Ngugi 33266927
Njuguna David Kimani 30220496
Nkonkat Dennis Loisah 34046918
Ntele Stanley Simiren 34982989
Ntiyani Jeremiah Saningo 35455285
Nur Omar Mohamed 35879980
Nyaberi Enock Okindo 34630210
Nyabuto Bravine Nyainguri 37186638
Nyachio Robin Abenga 38411861
Nyagaka Kingsley Ayoti 32584281
Nyagoma Brian Nyagweba 33603294
Nyakundi Daizy Nyambeki 33799416
Nyamweya Richard Charana 36613761
Nyangige Daniel Junior 37464171
Nyasemi Cliff Omanga 32523222
Nyepus Amos Lorite 34010555
Nyongesa Hillary Sikanga 32237494
Nzioki Brian Muthusi 31290411
Nzioki Peter Ndolo 38279775
Nzonzi Kimanzi 34842275
Nzuki Elijah Mwanza 32211666
Obita Evans Mwita 30528881
Obura Dedan 36103041
Obura Evans Ouma 31779584
Obuya James Ochieng 37618603
Obwoge Alloys Onchoke 32444668
Ocham Joseph Okal 32365925
Ocharo Wycliffe Oeri 32679641
Ochieng Julius Odhiambo 34067336
Odek Bill Williams 33823620
Odhiambo Benson Awino 32733848
Odhiambo Cavince Odiwuor 30974003
Odhiambo Emmanuel 33080992
Odhiambo Michael Oyoo 33989832
Odhiambo Nicholas 32547891
Odhiambo Odongo Gerald 35459861
Odongo Desmone Molo 34890471
Odongo Joseph Ouma 33221258
Odongo Vincent Bwire 33402446
Odoyo Odinga Robert 31138699
Oguna Martine 30388949
Ogutu Ochieng Kevin 34108924
Okeyo Tobias Osellu 32682517
Okii Andrew Oramisi 37211803
Okode Austine Odiwour 33903142
Okore Dendrick Okech 31471010
Okoth Brian Oduor 35534963
Okumu Fidelis Bwire 34438123
Okumu Wicklife Otieno 31400307
Olemaria Wilfred Lemayian 35010010
Olesapal Collins Lemayian 37408145
Oluoch Kevin Churchil 34833894
Oluoch Marvin Ogutu 32388415
Oluoch Obondo Icarus 32429209
Omar Abdi Mohamed 34576986
Omar Abdullahi Dabar 36521293
Omar Karim Nyambok 37517344
Omollo Titus Ochieng 31156433
Omolo Clinton Oduong 33657069
Omondi Brian Mwendwa 37533030
Omongini Brian Odutu 34428519
Omurana Ramadhan 33274201
Omuse Hillary Orono 36256944
Omutsi Fremont Onyango 32982926
Omwami Eliakim Barasa 35060021
Onchana Lameck Arisa 34052802
Onchoke Jacob Nyairo 32464783
Ondiko Joe Green 33212623
Ondongo David Otieno 34504188
Onenga Daniel Kibiego 32461508
Ongare Walter Oburu 33867182
Ongogo Collince Otieno 30690247
Onsongo Edwin Mochoge 31038473
Onyancha Bob Angwenyi 32398430
Onyango Charles Odhiambo 33092398
Onyango Douglas Miyoyo 32409487
Onyango Kevin Ochieng 33612654
Onyoni Derrick 32533669
Ooko Nickson 34349950
Opanga Ayma Obed 34249577
Orao Victor Ouma 31986601
Oriwo George Symon 33482669
Osango Rabin Akoko 33638850
Oswago Godwin Otieno 34254507
Otieno David Ochieng 31957172
Otieno Godfrey 33969889
Otieno Ian Odhiambo 36324473
Ouko Polycarp Nyanza 31648022
Ouko Robert 32357246
Ouma James Onyango 30983440
Ouma Kenneth Hagin 33559694
Ouma Melkio 32885495
Ouma Peter Ouma 31787989
Owino Bernard Owuor 31610017
Owit Rogers Aloo 31413089
Oyala Collins Efumbi 33549966
Oyoko Maurice Andeta 31716445
Parakuo James Sankale 34833465
Rachilo Jared Owino 34067352
Raphael Muthomi Solomon 35636298
Riposia Benjamen Pkiach 33478469
Rodney Derrick Ochieng 31768659
Rogers Kalimbo Kimbio 32156762
Roktok Hillary Kemboi 32536122
Rono Kevin Kipkemboi 37167976
Rono Mathias Kipngetich 37993090
Rono Robert Kipngetich 38461430
Rono Sidney Kiplangat 33620922
Rotich Hillary Kiprono 33387538
Rotich Victor Chepkor 31047455
Ruto Collins Pkemoi 36321511
Sadiki Taura Bao 33822382
Said Hussein Omar 32203431
Samal Eunice Amoni 38370949
Sameri Alfred Loonkushu 32838269
Samini Amos Baraka 31859272
Samoei Gideon Kiprotich 30591936
Samson Mutiso Munyaka 34541425
Samuel Kamau Buyuka 32598878
Sang Abraham Cheruiyot 33612737
Sang Felix Kipoo 32899863
Seleon Peter Antony 35323098
Sena Antony Omukala 33758327
Sendera Oscar 33089723
Serem Kelvin Kiprotich 33497985
Serem Paul Kipngetich 34207699
Serem Victor 32288915
Seurei Cosmas Kiprono 32730917
Shaban Rama Mwatsaka 34901325
Shadrack Kibet 32054249
Shama Guyo Sasura 31995287
Sharon Chebet Koech 31719612
Sharon Onyango Akoth 33358018
Sheikh Herman Ochieng 32114469
Sheillhali Haither Abdi 37074613
Shume Sharon Chiru 33620861
Siele Paul Kiprotich 32780366
Sikalabo Bendict Barasa 32318497
Sikanga Dancan Wanjala 37320650
Simuyu Davis Wafula 33902663
Some Dennis Kipchumba 32577701
Sovan Adero 33577454
Stanley Kiplangat 33226224
Suiyanka Samson Sankale 31371303
Sunkular Bernard Kiplangat 31950735
Tajeu Fabian 35751300
Tanui Derrian Kandie 36466135
Tanui Duncan Kipkosgei 33304356
Tarkash Amos Tuarari 34016452
Taruru Edward Lemayian 33266885
Thananga Ian Ng'ang'a 33547014
Thiauru Jacqueline Nkatha 35343690
Tingisha Musa Raen 34432081
Titiba Abraham Ngirio 32633759
Titus Kipchirchir Toroitich 33897996
Tonui Emmanuel Cheruiyot 38015899
Totona Felix Leparan 31951983
Tungu Harrison Chivatsi 37790116
Ture Ture Abdi 34397572
Wachira Elias Wambugu 30533444
Wachira Kelvin Ngatia 31708896
Wafula Arthur Israel 33506213
Wafula Elphaz Epoloto 38429306
Wainaina Felix Gachoka 30859294
Wakhungu Boaz Wanjala 35904491
Wako Jamal Hassan 34402035
Walucho Collins Wabwile 34380881
Wamatu John Mbuthia 32298200
Wambua Joseph Gitungi 32481639
Wambugu John Mwangi 32457223
Wambua Michael Mweeh 33720730
Wambui Francis Wainaina 32377354
Wamutira Lucy Wangeci 32804104
Wandera Ryan Cliff 33477596
Wanderi Wilson Njoroge 35349930
Wanga Fredrick Onyango 33550952
Wanguku Jimcollins Wamae 38630409
Wanja Samuel Njoroge 33407930
Wanjala Allan Otwane 32473486
Wanjala Barak Murokaya 33637771
Wanjiru Winnie Nyambura 32736463
Waweru Eliaph Githanji 34115856
Waweru Renson Kabibu 33272486
Wayne Wasomi 32222842
Wekesa Peterson Namachanja 34733793
Weldon Sang 32206993
Wesonga Isaac Ashila 33941752
Winnie Nyambura Wanjiru 32736463
Wothaya Danson Njdirangu 33103310
Wycliff Onchere Bironga 32645557
Yator Amos 32392191
Yiankaso Mateu Justus 32845490
Yuko Victor Okoth 33698687
Zawadi Evans 33396223
b. Specialist Officers
NAME ID $ NUMBER
Abdi Mohamed Rashid 30456178
Abdul Junior Nelfrank 30692526
Abdullahi Muhamed Hindada 32349344
Abraham Kimaru Bushenei 29245270
Abubakar Salim Abubakar 31005451
Abura Gerald Gumo 28821038
Achenchi Joyce Nyangau 28108525
Achieng Michael Juma 27713462
Aende Cyprian Odero 27779781
Agai Elvis Gomez 32022510
Ageya Brian Omondi 30775828
Agwata Linet Kwamboka 30447583
Ajwang Brian Omondi 32528209
Akenya Vincent 29749940
Alangole James Lomang 30364496
Ali Mohamed Ali 32205598
Ali Nasim Nakhabi 29900280
Amojong Faith Lynda 32710811
Andalia Danson Armstrong 30839925
Andi Veronica Achieng 27448525
Anthony Wachira Mburu 28114977
Aranda Johnalex Ogola 31503181
Ariemba Lameck Nyarunda 29553373
Arusho Daniel Pchumba 30113853
Asiena Oliver 29505087
Asuga Caroline Kerubo 33567068
Asunta Wanjiru Mungai 29677369
Athman Athman Aboud 28358490
Atodosia Francis Pkanis 28513915
Bacha Elizabeth Wanjiru 30226480
Bakari Ali Baishe 29517087
Barasa Keith Waliaula 28398302
Barkeben Jackline Jepkorir 29862141
Barsil Odiwuor Ochola 31701758
Barwel Kibet 31118191
Bett Charles 28387975
Bett Kipkemoi Kelvin 30429957
Bett Kipngetich Elijah 29249375
Bett Kipruto Nicholas 28340303
Bichii Koech Davy 29691827
Birgen Dickson Kipkoskei 30152850
Bisaule Sammy Wanjala 29120917
Blingam Murugi Phyllis 30683464
Bor Nelson Kipngetich 28396199
Brian Mogesa Simion 32007271
Buke Nur Jilo 28977886
Bundi Isaac Mwenda 28238673
Bungei Brian Kiplimo 28158034
Chai Daniel Munga 33017703
Charinden Dalton Koech 29109977
Chebet Mercy 30217426
Chemallan Brandon Kiptum 30167648
Chemweno Mathew Kiptoo 30171820
Chenghori Silas Kisoweri 29210828
Chengo Mangi juma 29945731
Chepngeno Mercy Langat 31954048
Chepkurui Aldrene Kimtai 30605089
Cheprutich Dennis Kipkoech 34202551
Cherogony Nancy Jelimo 32629129
Cherotich Brilliant 28137475
Cheruiyot Kiprotich 28654401
Cheruiyot Langat Victor 31789423
Cheruiyot Nancy Chepchumba 29719310
Chesire Lydia 29633276
Chiotsoma Ali Mwakombo 28211792
Chirchir Nicholas 29242455
Chirchir Evans Kiptoo 28507589
Chisaka Terry Makokha 29018703
Chiti Chiti Robert 32532699
Cornelius Kiptoo 29071962
Cynthia Chebet 33294290
Daniel Onyango Ochiel 27926968
David Michael Mulinge 28509515
Dibogo Oliver Ochar 30971091
Dukhale Twah Wesonga 31384242
Emusala Samuel Okodoi 32192410
Evalyn Mwathi Mboya 33149439
Eunice Wandia Kanyiri 29522851
Evoge Edwine Ambani 28748864
Fadhil Solomon Wandera 32506862
Farah Hassan Mohamed 25330681
Festus Barkinan 28528342
Francis Mosomi Ombaba 29545409
Gabriella Gumato Galgalo 32535729
Gakonya Alex Muriithi 29987285
Gakure Joseph Kirori 29966782
Gary Juneracheal Awuor 29841845
Gathiu Esther Muthoni 31967780
Gathogo Gilly Gitahi 27964166
Gathua Jonah Kibuthi 31242326
Gekonga Vionah Gesare 32233713
Gerald Gumo Abura 28821038
Gichobi Charles Mwembu 27949435
Gichohi Ephantus Githua 30208177
Gitaari Denis Kevin Munene 28032726
Gitahi David Ndungu 28226055
Gitangu Christopher Abura 32562629
Gitonga Cyrus Waihenya 30190626
Godhana Mohamed Abubakar 30781837
Guyo Dub Wato 30007411
Halake Halkano Diida 27961883
Harrison Kinuthia Mburu 29365515
Harrison Losike Patrick 30470515
Hillow Ahmed Noor 32752841
Hirbo Lolo Bulle 28012734
Hussein Ababa Tade 30616413
Ibrahim Mohamed Diriye 32797088
Idle Ibrahim Noor 29714098
Iha Rajab Ali 29671412
Inyaite Dorine 31700818
Irene Cynthia Omari 28174607
Isaack Rashid Osman 32968602
Isoe Faith Mosoba 29732717
Isoe Robert 29799875
Jacob Osurwa 29339544
Jasho Candid Ahadi 29949028
Jeptoo Lydia 28422813
Jerotich Liz 30308818
Jemutai Beverlyne 31714773
Jirmo Amina Noor 32625623
Joshua Robert Ouko 30764318
Judith Chepngenoh 30018770
Kabage Clinton George 30873675
Kabwoya Eucabeth Gimoi 29817377
Kadenyeka Praxidice 28181242
Kagocha Naomi Gakenia 30167849
Kakaimoi Osborn Rotich 31480008
Kalia Faith Mukonyo 30356338
Kalundi Fredrick 31603562
Kamande Brian Michael 29490157
Kamau Emmanuel Njuguna 31608749
Kamande Edward Muiruri 32942064
Kangangi Alice Wawira 32038411
Kangethe Daniel Maina 29630990
Karanja Esther Wairimu 29685619
Karisa Patrick 32665295
Karitu Eric Macharia 29345435
Kariuki Jane Wanjira 31040469
Karoki Janet Muthoni 32393554
Kapkory Allan Kimtai 32596970
Kathenge Kennedy Kaindi 30937961
Kathuki Peter Mwandikwa 31248775
Kazungu Francis Maendeleo 29648675
Kelvin Maitethia Mbaya 31180614
Kelvin Njogu Karoki 31521202
Kelvin Ruto Kiso 32543174
Kemuma Jemimah Mokaya 28790267
Khata Hassan Wandete 26336334
Kiama James Mwangi 31283350
Kiboiywo Elvis Kimalit 32466697
Kibon Kanyaris 32141630
Kibor Recho Jepkosgei 30471009
Kigen Fridah Jellagat 28504582
Kigen Mannon Kiprop 31562651
Kimani Joe Collins Muiko 30466853
Kimani Joseph Muhoro 30144636
Kimani Milkah Njeri 30061791
Kimathi Edina Ndumba 30240183
Kimathi Maria Kendi 32586664
Kimeu George Mwilu 29452022
Kimutai Cornelius 28843512
Kimutai Hillary 32360010
Kingoina Joy Nyaboke 32638023
Kinyua Kenaldis Murakaru 27844107
Kinyua Millicent Nyanguthii 31757198
Kinyua Richard Kathurima 27136493
Kipkoech John Korir 28484200
Kipkorir Michael 27466302
Kipkosgei Nicholas 30312362
Kiplagat Solomon 29457147
Kiplangat Peter 27659892
Kipngetich Nicholas Langat 31944241
Kiprop Cynthia Chebet 33294290
Kiprop Kevin Kibiwott 32324990
Kipserem Amon Kangogo 31772371
Kiptoo Daniel 32312078
Kiptoo David 32872096
Kiptoo Gilbert 28795350
Kiptoo Janet Chebet 31899367
Kiraguri James Githinji 29652726
Kiretai David Mugothi 28171203
Kirui Edgar Kimutai 28806632
Kirui Kelvin Kimutai 30901962
Kirui Shadrack 29936240
Kituku Joel Muange 32562629
Kizito Magero Kiboi 28388908
Koech Kevin Kipkirui 28698353
Koech Shadrack Kiprono 32431564
Kokuai Alex Mutesia 27491866
Korir Getrude Jepkurui 29773867
Koskei Newton Kipkemoi 30016320
Kungu Esther Wairimu 29507208
Kursai Moses Tunai 31074573
Kusura Arero Duba 29298361
Kwinga Alii 28298597
Kyumbulo Anthony Mutiso 28628127
Lagat Lilian Jepkorir 31600580
Langat Aggrey Kibiwott 28926434
Lemtukei Anthony Pkorir 29682252
Lengudia Stephen 32510396
Likidan Jacob Ngimat 31067436
Liz Jerotich Ego 30308818
Lolonyekie Loisiaa Gabriel 32207671
Lomale Michael Tia 31052055
Lorna Gatwiri 33350053
Lucheveleli Dianah Mirriam 31863789
Luvayo Sydney Sinei 28378651
Luvonga James Muchiunze 27423550
Maarifa Mesaidi Mariga 32578547
Magondu Susan Gathigia 28533094
Magut Jared Kiplagat 28187924
Maina Daniel Wangila 31051083
Maina Samuel Muthoni 31584766
Maingi Jephitha Kigunda 30028908
Maitai Martin Mutwiri 29250877
Maiyo Festus Kipkoech 28469317
Makuti Luka Boniface 31441745
Manasseh Michael Yawa 32428664
Manuni Stephen Mayeka 31414777
Manyatta Doreen Nanguma 28135275
Marandu Evans Mbura 28064502
Martin Kithinji Mwirigi 28602412
Martin Richard Nzai 28944554
Masai Hezron Kiprotich 28693984
Matolo Brian Mwomga 28529365
Mason Paul Kikungu 28612520
Mathu Mercy Wanjiku 29009696
Mathu Stephen Muturi 29375520
Maundu Emma 'wandia 27420480
Mbae Rachael Kanana 31877644
Mbaruku Iqbal Seif 29742690
Mbitiru Grace 28295186
Mbiti Patrick Murithi 23368874
Mbugua James Njunge 32116324
Mbura Joseph Chilumo 28374742
Mbuya Daniel 30235989
Mdali Justin Mwajomba 29644890
Meda Michael Ngoma 30013510
Mekenye Zachary Mariita 29624597
Meltus Opondo Mukeni 33091800
Mercy Cherutich 36020870
Mfori Stephen Mwadime 27451846
Minai Winnie Grace 30668427
Miranda Adams Odero 28822901
Mong'are Paul 29360450
Mongoi Hilder 28721280
Mpekethu Nelson Mweteri 28460477
Muendo Morris Mutua 28301067
Mugambi Denis Muthethia 32527401
Mugiira Kelvin Mugambi 32313334
Mugo Benjamin Kinyanjui 30032045
Muguna Peninah Nkatha 29570192
Mugwanja Veronica Njeri 28874774
Muhamud Muhamud Jamal 32860571
Muigai Peter Kariuki 30090422
Mukami Evalyne 28763260
Mukoma Julius 28869039
Mulwa Daniel Muema 33471975
Munene Edwin Muriri 32399573
Muniko Makabara Moses 29371536
Munyao Merrygirl Ndidi 30475535
Munyao Angela Ndunge 27848651
Munyasia Annette Achieng 31800528
Munyoki Faith Mukami 31690776
Murage Samuel Kabiru 31106137
Muriiki Jenaroh 28747533
Murimi Nicholas Kagiri 29239620
Murithi Derick Murimi 30393194
Murithi James 31819654
Muriuki Ebon Kuria 30707600
Murugi Stephen Macharia 30248559
Murungi Edwin Munene 32018788
Musyoka Dennis Musau 27435890
Musyoka Kelvin Muoki 29758885
Muthee Brian Kinyua 32776083
Mutisya Fidelis Makau 32229812
Mutua Naomi Mbula 30743360
Mwalizuma Abdalla Chumba 29544495
Mwambi Catherine Kitawa 32852961
Mwamboga Moses Kingi 27326834
Mwangi Ann Lilian Wangui 33599073
Mwasi Mary Anne Mukokinya 29740035
Mwenda Lewis Mutuma 32554455
Mweu Elizabeth Syombua 32857994
Mwirigi Purity Muthoni 31987696
Mwiti Denis 31892420
Naisho Mercy sintamei 35090974
Nakola Samwel 27141417
Nancy Wangare Nganga 32842374
Ndege Loise Kainyu 25115178
Ndemo Paul Mongare 29360450
Ndetei Pascal Nzeki 29245270
Ndiranguj Zacary Munga 29339544
Ndoo Grace Masaa 31995014
Nduati Mary Wanjiru 32610148
Nduma William William 31430607
Ndungu Teresa Nyambura 28295397
Ngandi Purity Mutheu 31985307
Ngao Caroline Kiluu 30715531
Ng'alu Benjamin Mwanzia 31245657
Ngari Francis Muchiri 29572669
Ngendo Kelvin Kinyanjui 28268963
Ngethe Anthony Muriuki 27771144
Ngetich Gilbert 29968229
Ngichabe Francis Kemboi 30980930
Ngitto Kiti Chappa 31878063
Ngoma Medad Michael 30013510
Ngoriakou Benson Loktari 28710513
Nguono Joyce 33725926
Njagi Cyrus Ndungu 28278106
Njanja Lawrence Munene 34141337
Njaramba Geoffrey Muturi 28375359
Njiru Doreen Kagendo 31668357
Njiru Imela Wanjiru 29848460
Njogu Christine Wairimu 29537469
Njoroge Barbara Njoki 29767427
Njoroge Rose Wangare 32045019
Njoroge Stephanie Nduta 32743992
Njuguna Kenneth Nganga 28469679
Njuguna Mary Njoki 30441402
Nkamani Pamela Kinya 28115042
Nkatha Maureen Kinyua 31340738
Nkatha Emily 32221640
Nyabuto Emily Kwamboka 32267088
Nyabuto Winnie Bosibori 29336478
Nyalle Victor Mwango 29333925
Nyambono Hesbon Otwori 28249354
Nyamongo Abigael Nyatuka 30912165
Nyangala Mark Nyamawi 32292441
Nyang'au Gitene Tiberius 32346177
Nyikal Brian Otieno 29418674
Nyongesa Paul Wafula 29608564
Nzonzo Kevin Matheka 30196105
Obaigwa Ruth Kwamboka 32172961
Obiero Mark Odongo 32401072
Ochieng Brian Ochieng 30329079
Ochieng Willis Okumu 28655597
Odda Franksoul Abamida 29547347
Odero Kelvin Odero 28363213
Odiwuor Brian 28202718
Odongo Clinton Zachariah 31064398
Oduor Reagan Odhiambo 29743119
Oduor Stormin Onyango 29497725
Ogidy Jennings Otieno 29755964
Ogutu John Bosco 25115178
Ogutu Steve Elvis 28485720
Ofisi Festus Pamphil 27890502
Ojwang Boniface Dede 30043550
Okari Japhet Nyasimi 29590545
Okech Sylvia Adhiambo 30223793
Okoth Kevin Odongo 29691743
Olando Christine Muhonja 29813042
Oluoch Laura Atieno 28318561
Oluoch Paul Ouma 28055092
Omaiyo Deborah Kerubo 29147854
Omar Adulahi Dabar 36521293
Omari Cynthia Irene 28174607
Ombati Vincent Nyaundi 27923905
Ombongi Brian Matagaro 30217376
Omboto Enock Auma 28757681
Omollo Mural Otieno 32015250
Omollo Raphael Ang'asa 31703151
Omolo Claire Anyango 32329371
Omolo Collins Levi 31913436
Omondi John 29814848
Omwamba Angeline 29046530
Ongati Brian Wilson 32539860
Onono Joel Onyango 30629542
Onsaringo Kingslay Omboga 29601696
Onsembe Brenda Kwamboka 31640864
Ontiri Geoffrey Kerongo 32048601
Onyango Brian Ochieng 28659689
Onyango Salome Achieng 32940232
Opemo Kevin Opemo 27845373
Opiyo Brenda Atieno 29879698
Opiyo Moses Ochieng 29885464
Orre Emmanuel Hirkena 30596652
Otieno Brian Omondi 28906031
Otieno Davies Oluoch 29565423
Otieno Fabian Odhiambo 28171055
Panian Samuel Stanley 32613805
Njambi Pauline Mukui 30780420
Phoebe Adhiambo Ogolla 31237989
Pyaban Kipkurui Givans 27633251
Risona Jackson Koll 28263412
Rono Ismael Kipchirchir 31030759
Rono Nicolson Kibet 28037590
Rotich Hosea Barasel 27687204
Rotich Stanley Kiptanui 28618576
Rugumi Nicholas Munyuiri 31342769
Rukungu Isaac Mbogo 24193216
Rutto Ismael 32469247
Saaya Nelly Sila 32847432
Salim Abubakar Kome 33622780
Salimo Allan Kwerit 30837905
Segera Collins Ayusa 30082836
Sergon Gregory Kiplangat 31728223
Sheikh Ahmedhadi Abdi 28915253
Shem Wycliffe Onyango 29992998
Sheude David Lessagi 30022350
Sigei Edwin Kipkosgei 29893428
Sikuku Eugine Kisaka 29736237
Sikuta Daniel Lupao 29724266
Simatei Hillary Kibet 29707967
Simiyu Brian Wangwe 29793063
Simiyu David Wanjala 28707842
Simiyu Edwin Temba 29623131
Siron Solomon Kipkosgei 30579990
Solio Wilson Shelel 27869381
Situma Isaiah Wataka 30200012
Stephen Ignatius Njau 30852866
Susan Aluoch Apondo 28666354
Sylvester Elly Wesonga 31066345
Sylvia Naserian Lesiokono 32428664
Tanui Mark Kimeli 29461997
Thuranira Vivian Mwendwa 28158438
Tonui Arthur Kibet 32431724
Too Abraham Kipchirchir 32054380
Too Roy Kiprutoo 28515781
Tororei Brian Kipchumba 27722319
Towett Kiplangat Erick 32517723
Tsuma Alex Tsuma 28869110
Tsuma Joseph Mapiku 29250488
Tuitoek Daisy Jepkonga 32622476
Tupokal Enos Pkiror 29623056
Wabomba Derrick Munene 29499492
Wairimu Daniel Maina 28729382
Wambua Brigid Wanza 28563178
Wambua Joyce Nduku 32010061
Wambui Kihinyo Martha 30175005
Wamburu Samuel Ngigi 28565959
Wamera Wilson Solomon 29311672
Wango Winnie Achieng 29265693
Wangui David Murimi 27750647
Wangui Rosalyne Wangui 32800109
Wanjau Evanson Kariuki 29705186
Wanjohi Ignatius Gichure 29907330
Wanjohi Richard Gachoki 29956695
Warugu Moses Kanyi 32828465
Wasama Brenda Cheruto 30836630
Waweru Ebrahim Ndirangu 31674091
Wekesa Charlene Nanjala 29614099
Werungah Evans Kaya 30773591
Wesley Maro Getia 30236372
Wesonga Habil Machengo 29094071
Solomon Wilson Wangera 29311672
Winny Chelagat 28881542
Wolle Stephen Dulach 28461184
Wycliffe Zedekiah Onganga 29992405
Yego Boaz Kipkemboi 29345055
Yegon Brian Kibet 32392376
Yvonne Mwikali Maina 30946295
Zachariah Isaac 33536821