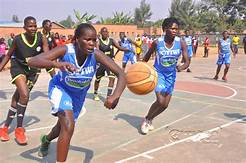 The Ministry of Education and the Kenya Secondary Schools Sports Association, KSSSA, have moved in to stem cases of age cheating and impersonation in school games. The Ministry has now made it a requirement that all students participating in school games' championships must be first captured in the National Education Management Information System, NEMIS, before they can be allowed to compete. Schools will now be required to enter the student's Unique Personal Identifier, UPI, onto a special team list/ declaration form alongside other details. The UPI to be entered must be that assigned to each student on the NEMIS portal. Other details to be provided on the declaration form are: the student's full name, Form/ Class, admission number, Date of Admission, Date of Birth, KCPE (Kenya Certificate of Primary Education) index number and the KCPE year. This way, it will now be easier to eliminate cases of age cheating and impersonation as details of the presented players can be easily retrieved from NEMIS including the learner's photograph.
The coach or games teacher and the Principal must sign the declaration form indicating that the presented players/ participants are bonafide students.
LIMITATION IN NUMBER OF PARTICIPANTS
KSSSA, the body that runs secondary schools' games, has limited the number of foreign players to be included in a school's team. Going forward, KSSSA has allowed schools to add a maximum of 4 foreign players to their teams and all these players can be fielded at the same time. But, for other team games (basketball, hockey, Rugby, volleyball, netball, and handball) schools will be allowed to include a maximum of three foreign players; with only two featuring for the team during a match at a time. KSSSA has also limited the number of players that a school can transfer from another school. Consequently, no school will be allowed to transfer more than 2 players from another (same) school.
The Ministry has also put a ceiling on the number of participants per team as shown below:
Swimming- 15 participants
Badminton- 6
Hockey- 20
Basketball- 12
Cross Country- 6
Volleyball- 12
Netball- 14
Handball- 14
Rugby 7's- 11
Rugby 15's- 20
Athletics- 2 per event
Soccer- 20
Table Tennis- 6
Lawn Tennis- 4
OTHER RULES
1. Under 19 rule: Schools will also be expected to field participants who are under 19 years old in all other disciplines apart from soccer under 16.
2. 90 day rule: As has been the norm, only students who have stayed in their respective schools for at least 90 days prior to the official commencement of the term one games (at Zonal level) will be eligible for participation. This rule does not, though, affect form ones, but new students in other forms must have reported to school by 15th November of the preceding year for them to be eligible.
3. Repeaters: Students repeating will not be allowed to participate during the repeating year. Such students can nevertheless be allowed to participate in the following year. This rule bars all form four repeaters from taking on to the fields of play; during the repeating year.
4. The six year rule: According to KSSSA, a student may participate at the secondary schools' championships for a maximum period of six continuous years.
5. Documentation: For schools presenting teams, the players/ competitors must have:
A copy of the Kenya Certificate of Primary Education, KCPE, certificate; forwarded by the Principal. (For form ones, they will be required to have a copy of their result slip).
A group photo with the specified number of players for that event with only the Principal and coach posing with the players in the photo.
A copy of the birth certificate also forwarded by the principal.
A photo Album (Spreadsheet) certified by the Principal.
The school Identity Card bearing the student's details as indicated on the team list.
The Teachers Service Commission, TSC, also released guidelines on protection of learners while on Co- Curricular activities. Via a circular released last year and which is still in force, TSC holds that:
ALL Principals/Headteachers SHALL ensure that for any co-curricular activity (games and sports, music, drama, scouts, girl guides, educational tours, congresses, exchange programmes, debates, symposia, contests etc) within and/or outside the school, pupils/students are accompanied by at least one registered teacher of the same sex depending on the number of students/pupils involved in the activities.
Persons NOT registered as teachers (including teachers whose names have been removed from the register of teachers) should not be incorporated in the school programmes (including co-curricular activities) to teach, handle, manage, coach, supervise and/or assist in the teaching, handling, managing, coaching, supervision of pupils/learners