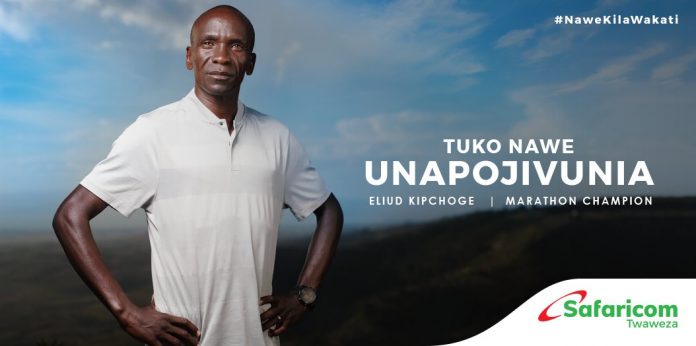 During its 18th Anniversary, Safaricom has unveiled a myriad of 'goodies' to its customers:
To prove that we mean what we say, we have been working on a few things over the last few months, some of which I'm sure many of you are already aware of.
✅FREE WHATSAPP: To start with, we unveiled a new data proposition last month that offers greater value for less and comes with free Whatsapp, which customers can continue enjoying even once they run out of data bundles.
✅CHEAPER DATA BUNDLES FOR LOW VOLUME USERS: Last week, we announced that we would be absorbing the 15 per cent excise duty charged on data bundles priced lower than KES 100, therefore cushioning data users who purchase lower denomination bundles.
✅YOU CAN NOW REACTIVATE EXPIRED DATA: Still on data, effective midnight tonight, customers will be able to reactivate expired data bundles by simply purchasing a new data bundle within a period of seven days after the expiry of the initial bundle.
✅CHEAPER CALL RATES: In celebration of our 18th birthday, we will be running the 18For18 promotion, during which our customers will be able to make on-net and off-net calls for as low as KES 1 per minute each day, more than 75 per cent lower than our average calling rate.
✅18 BOB FOR 180MB OF DATA: Customers will also be able to purchase 180MB of data for KES 18 or 1800 SMS for the same amount, while BLAZE subscribers will enjoy an offer of KES 18 for either 120 minutes of talk time or 500MB of data. This promotion will run up to Jamhuri Day, and each customer will be able to redeem this offer once a day.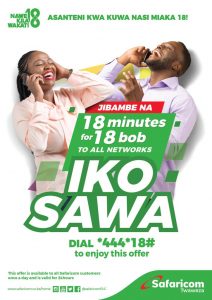 ✅DISCOUNT FOR POST PAY CUSTOMERS: Postpay customers will receive a 10 per cent discount on their October bills, while our Enterprise and Home Fibre customers will also receive amazing discounts.
✅1 GB FREE DATA DURING YOUR BIRTH DAY: In addition, we will be rewarding customers with 1 free GB of data & a special tariff of 1 bob per minute on their birthdays, valid for that day. This birthday reward will run beyond the promotion period to allow everyone on our network to enjoy it.
HOW TO ENJOY THE OFFERS: It's our birthday but you're getting all the gifts. This month we are letting you know kila kitu #IkoSawa with 18 minutes for 18 bob offer. Talk more for less with friends and family by dialling *444*18#