The death toll from the early morning accident has risen to 50. The passengers perished after a bus, Home Boys, overturned this morning at Fort Tenan (Tunnel Flyover) near Kipkelion, on the Kisumu-Muhoroni route. Fort Tenan OCS, Charles Ocharo, has confirmed the accident. The Western Express bus was from Nairobi and heading to Kakamega. It had 64 passengers on. Eight of those who died were children below 5 years. This spot has been highlighted as a black spot with over 10 accidents having occurred at the area.The accident occurred at 4.am, today. The 14 survivors were rushed to various health facilities, near the area like Kericho County Hospital, Muhoroni and Fort Ternan. Those who perished include: 31 men, 12 women and  and 7 children.
While, mourning the deaths, Former Prime Minister, H.E Raila Odinga said, "I send my deepest condolences to the friends and families who have lost their loved ones in the horrific accident that occurred at Fort Tenan. May souls of all the departed rest in eternal peace. I appeal to police officers to arrest the return of madness on our roads."
Police are on the scene, carrying out investigations.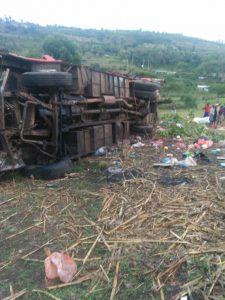 More details to follow:
What a sad way to start this Moi Day holiday!