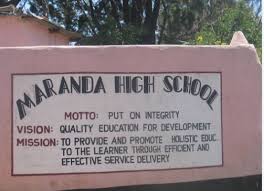 Maranda High SCHOOL KCSE 2020/2021 RESULTS ANALYSIS (SCHOOL MEAN, INDIVIDUAL CANDIDATES' RESULTS AND MEAN GRADE SUMMARY)-  Maranda High School is a top performing high school located in Siaya County of Kenya. Here is the KCSE 2020 results analysis for the school.
Maranda High school has always maintained a good run in the KCSE examinations over the years. For instance, in the 2019 Kenya Certificate of Secondary Education (KCSE) examination results the school emerged among the top 100 schools in the whole country.
You may also like;
Maranda Highschool managed a mean score of 8.906 in the 2019 KCSE examinations.. Read more details here; KCSE 2019 list of top 200 schools nationally; Full list.
You may also like; KCSE 2019 national results and ranking per subject- Physics
Maranda High SCHOOL'S KCSE 2020 RESULTS ANALYSIS AND MEAN GRADE SUMMARY
We have analysed results for Maranda High school in the KCSE 2020 examinations. Get the school's KCSE 2020/2021 results and all schools in the country plus candidates in the official Knec results portal, here; KCSE 2020-2021 OFFICIAL RESULTS PORTAL.
Popular on this site
We have more KCSE 2020-2021 articles for you here;
KCSE 2020-2021 Top 100 Schools nationally
KCSE 2020-2021 Top 100 schools per county
QUICK KNEC LINKS