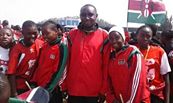 Kwale girls football team has won the 2018 Sports Personality of the Year Award, SOYA. Kwale are also the Federation of East Africa Secondary schools sports Association, FEASSSA, soccer girls' champs. The awarding ceremony is taking place at Fort Jesus, Mombasa. Here are the top three teams:
1.Kwale girls football team
2. Trans Nzoia mixed Hockey team.
3. Kwanthanze girls volleyball team