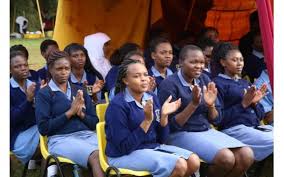 Programmes and Courses currently offered: –
Diploma Kenya Registered Community Health Nursing
Diploma in Clinical Medicine and Surgery
Certificate Kenya Enrolled Community Health Nursing
Certificate in Medical Engineering
Future Plans
The Campus plans to introduce the following programmes in the near future:
Higher Diploma in Anaesthesia
Diploma in Optometry
Diploma in Pharmacy.
Facilities
Fully equipped skills laboratory
Fully equipped administrative and staff offices
ICT infrastructure with modern computers, all connected to the internet
WI-FI network is available 24 /7 to enable students conduct research and online studies.
Modern teaching technologies
Fully equipped library with latest books and is located in a serene environment.
Well- equipped hotels with WIFI.
Student Population
The student's population is 750 with the number expected to go higher in the next intake.
Clinical training sites 
The students use Longisa Level 5 County Referral Hospital which is adjacent to the Campus and Rural Health facilities within and outside the Bomet County for their clinical experience. Other clinical areas include:
Narok County Referral Hospital
Ndanai Sub-County Hospital
Sigor Sub-County Hospital
Cheptalal Sub County Hospital
Kapkoros Health Center
Shongiroi Health Center
Sotik Health Center
MogogosiekHealth Center
Londiani Sub- County Hospital
Ole-nguruoneSub-County Hospital
Songok Sub- County Hospital
Nandi hills Sub-County Hospital
Clubs, Societies and Sports
Seventh Day Adventist
Christian union
Environmental club among others
Sporting activities are available and our students participate from Zonal to National levels of sports competition. The Campus has won several Gold, Silver and Bronze in ball games and athletics.
Bomet KMTC Campus Contact Information:-
The Principal
KMTC Bomet Campus
P.O. BOX 76-20402
Longisa
Tel: 020-2008531 /020-2008532
Email: [email protected]
Full list of all Courses offered at KMTC (See minimum entry requirements)
1. Clinical Medicine and Surgery (Diploma and Higher
Diploma)
2. Medical Laboratory Sciences (Diploma and Higher
Diploma)
3. Orthopaedic and Trauma Medicine (Certificate
and Diploma)
4. Community Oral Health (Diploma)
5. Medical Imaging Sciences (Diploma and Higher
Diploma)
6. Medical Education (Higher Diploma)
7. Health Records and Information Technology
(Certificate and Diploma)
8. Pharmacy (Diploma and Higher Diploma)
9. Dental Technology (Diploma)
10. Nursing (Certificate, Diploma and Higher Diploma)
11. Public Health (Certificate, Diploma and Higher Diploma)
12. Nutrition and Dietetics (Certificate and Diploma)
13. Occupational Therapy (Diploma and Higher Diploma)
14. Health Promotion (Certificate, Diploma and Higher
Diploma)
15. Orthopaedic Technology (Diploma and Higher Diploma)
16. Optometry (Diploma and Higher Diploma)
17. Physiotherapy (Diploma and Higher Diploma)
18. Medical Engineering (Certificate, Diploma and Higher
Diploma)
19. Short Courses
How to Apply for KMTC Courses 2021/2022
We welcome your application
Thank you for your interest in the Kenya Medical Training College. We are happy that you are looking closely at the exciting opportunities available here in KMTC.
KMTC seeks to enrol and graduate applicants who will develop and grow educationally and personally and will contribute to the College community, and the broader society.
To that end, the role of the Admissions and Records Office is to recruit, admit, and encourage enrolment of applicants who are spiritually mature, academically excellent, accomplished in extra-curricular endeavours, and broadly diverse through individualized review and professional judgment.
Applications: 
All applications are ONLINE from the application portal on this website www.kmtc.ac.ke.
The prospective candidates apply for admission into courses for each academic year for Regular or Parallel Category.
The Regular category have subsidized fee with optional accommodation but no choice for campus while the parallel category have non subsidized fee, no accommodation option but have option for campuses choice in more than sixty five (65) campuses situated in different parts of the country depending on the courses.
Application Procedure:
Prospective candidates are expected to visit the applicants' portal, read the advertisement to know the various courses and their specific entry requirements.
Candidates interested in making an application are advised to READ the application guidelines (preservice/Inservice) available on the application portal
Candidates are advised to follow the steps carefully given in the application guideline to the end to be sure of application success.
Take note that the application period has timelines as stipulated on the advertisement please observe them