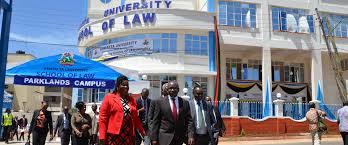 Kenyatta University wishes to inform the Graduates of the 45th graduation ceremony that took place on the 14th December, 2018 that their academic Certificates are now ready for collection at the at the Graduation and Issuance Office Room 127; Central Admission Complex. The Schedule of collection is as follows:
9th to 18th January, 2019:
School of Education.
School of Business
21st January to 1st February, 2019:
School of Economics
School of Public Health and Applied Human Sciences
School of Pure and Applied Sciences
School of Medicine
School of Humanities and Social Sciences
School of Security, Diplomacy and Peace Studies
4th to 15th February, 2019:
School of Law
School of Hospitality and Tourism Management
School of Agriculture and Enterprise Development
School Creative and Performing Arts, Film and Media Studies
School of Engineering and Technology
School of Environmental Studies
POINTS TO OBSERVE:
A storage fee of KShs 1,200 per year shall be levied on any uncollected certificates after 31st December, 2019.
Clearance with the University is a pre-requisite for collection of the Certificates.
Those who graduated before 2018 are urged to collect their Certificates to avoid accumulation of storage charges.
ENQUIRIES:
For further information please contact:
The Registrar (Academics)
Kenyatta University.
P.O Box 43844- 00100 NAIROBI.
Telephone: o208710901/2/3 Extension: 3092/3094
Mobile Number: 0786 335 111
Email: [email protected]
 


READ ALSO