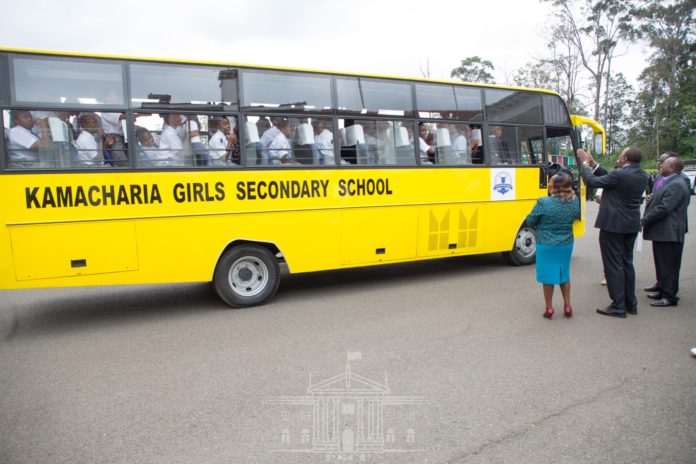 President Uhuru Kenyatta has said that the government will remain steadfast in its various efforts to ensure that all Kenyan children attain basic education.
The President who spoke at State House Nairobi when he handed over a 52-seater bus to Kamacharia Girls Secondary School from Murang'a County said that the Government will continue investing in the expansion of infrastructure to ensure that all Kenyan children have access to education.
To show appreciation for the efforts by the government and their parents, the Head of State challenged students across the country to work hard in their studies by avoiding detractors associated with the vain pursuit for short term gratifications including sexual relations.
"Work hard, be diligent. You have a long way to go. Let us not be in a rush, there is no need to rush be focused in your studies," said the president.
The President reminded students that school equipment and the supporting infrastructure provided by the government are meant to ensure that they are not unnecessarily distracted from their key goal of excelling in their studies.
"This is really to encourage you that as you go along with your studies, you need also to do the best. With this support it would be equally rewarding for us to see good results at the end of the year from you" President Kenyatta told students of Kamacharia Girls.
Besides the bus, President Kenyatta also donated indigenous seedlings to the school and challenged the girls to always be mindful and sensitive to their physical environment.
Mathioya Member of Parliament Peter Kimari Kihara who accompanied the school's board members, teachers and the students expressed gratitude to the President for the ongoing development projects in his constituency.
He cited various complete and ongoing development projects in his constituency among them roads and electricity connections initiated during President Kenyatta's term.
The MP thanked President Kenyatta for the Shs 150 million allocated for the upgrading of Mathioya Technical College by the national government saying the institution is key to the future wellbeing of the youth in his constituency.