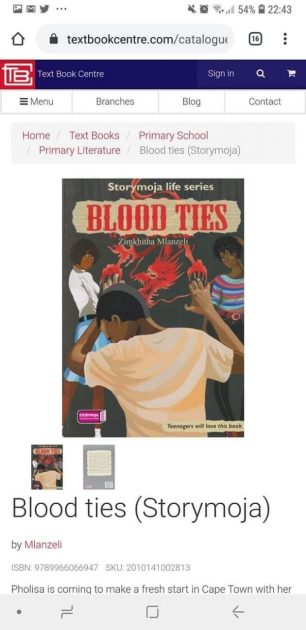 The Education Ministry has warned schools on the procurement and utilization of textbooks and other revision materials. In the latest directive, the Ministry warns schools to only purchase approved textbooks as listed in the Orange books. This comes after an outcry from parents who claim to have been forced to buy a vulgar book for their class six kids. The book titled Blood Ties, by storymoja life series, and authored by Zimkhitha Mlamzeli caused frenzy in Social media platforms for containing vulgar language.
But, now the Ministry has told schools to use only approved instructional materials.
"It has been noted with concern that some schools are procuring unapproved books that contain unsuitable contents," warns the Ministry through a circular titled 'Re: Use of approved books in schools' and dated 19th September, 2019 by Elyas Abdi; the Ministry's Director General.
"Please note that any Principal/Head teacher who fails to implement this policy will be in contravention of Section 27 of the KICD Act, 2013," adds Abdi.
Section 27 (1) of the KICD Act, 2013 states;
'Except as provided for under this Act, no person or institution shall develop or implement any curriculum or curriculum materials in respect to any education institution to which this Act applies, without approval and accreditation in accordance with the provisions of this Act or any other written law'.
Those found culpable, of contravention of this section, shall be liable on conviction for imprisonment for a period not exceeding three years or to a fine not exceeding one million shillings, or both.
Approved Books
The Kenya Institute of Curriculum Development (KICD) Vets all instructional materials intended for use in all Basic Educational Institutions implementing the national curriculum. After vetting, the Ministry publishes the vetted and approved books in two volumes (Orange book);
1). Approved list of text books and other instructional materials for secondary schools.
2). Approved list of school text books and other instructional material for Pre-Primary, Primary Schools and Teacher Training Colleges.
"The latest edition of the above is the 16th Edition, January 2017. An addendum to the Orange book for Competence Based Curriculum for Pre-Primary one, Pre-Primary two and Grade one to three was published in 2019 and is available on the KICD website", adds Abdi.
On its part, the KICD said the book in question had not been approved as should be the norm. "This book is not approved by KICD. It is not listed in the Orange book that contains a list of all books that schools should use for teaching and learning," said KICD in a tweet.
KICD has at the same time warned parents and teachers to be on high alert not to purchase unapproved educational materials. "Not all books in the market are approved. That is why teachers and parents are expected to rely on the Orange book to buy right books. We have previously responded to worrying content whose origin was books from foreign countries. This book is not approved," warns the KICD.
In a rejoinder, the Publisher of 'Blood Ties' admits that the book that has been circulating for the wrong reasons is not approved by KICD.
The Education Ministry does direct supply of text books to schools. Statistics from the ministry reveal that in the past one year, the government has supplied 32 million books for learners in secondary schools covering six core subjects; Mathematics, English, Physics, Chemistry, Biology and Kiswahili.
Related Story;