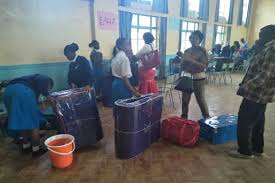 Candidates who sat for the Kenya Certificate of Primary Education, KCPE, examination this year (2018) will know the schools they will join as the Ministry of Education is set to roll out the 2019 form one selection exercise.
The Exercise slated for next week, 3rd and December 2018, will see the over one million candidates get form one places in line with the government's policy on hundred percent transition from Primary to Secondary Schools. The candidates who received their results few days ago will now be waiting with abated breadth as the exercise unfolds to see if they will get places in the schools of their choice.
According to the Ministry of Education, the selection will occur at two levels; National and Regional Levels. "I wish to inform you that the launch of form one selection will take place at two levels, namely: National and Regional Venues," reads a circular by Ministry's Director General, Elyas Abdi. According to the circular dated 28th November 2018 and dispatched to all Regional Coordinators of Education, the launch of the National Selection exercise will occur on Monday, 3rd December 2018, while the Regional Selection exercise will be launched on Wednesday 5th December, 2018, across designated venues. The National selection exercise will be launched by the Education Ministry's Cabinet Secretary, Dr. Amina Mohammed, at the Kenya Institue of Curriculum Development (KICD) in Nairobi.
During the National launching, Dr. Amina Mohammed will preside over the exercise where selection lists for National Schools will be issued. The candidates select their preferred secondary schools during the registration exercise that runs between January and March; prior to the KCPE exams in October. The forms ones will be placed in National, Extra County, County and Sub County schools depending on the marks garnered and the placement guidelines to be released by the Ministry.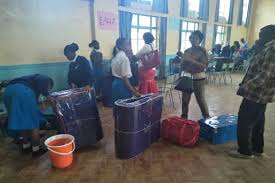 At the Regional launching, the Regional Coordinator will steer the exercise where the Cabinet Secretary's speech will be read. Sharing of selection guidelines and lists for Extra County and County schools shall then occur. The Regional exercise shall be attended by The County Directors of Education (CDEs), Sub-County Directors of Education (SCDEs), Principals from Extra County and County Schools among other stake holders. According to the Education Cabinet Secretary, there shall be no second selection exercise this year, as was the case last last year.
The 2019  form ones are expected to report to their respective schools in January as the schools re-open for term one. Schools are expected to grapple with the limited physical facilities and personnel due to the upsurge in numbers of form one recruitment, next year.
The Regional Selection exercise shall take place in specified ten regions; North Rift, Mombasa, South Rift, Kisumu, Kakamega, Metropolitan (Nairobi), Central, Machakos, Garissa and Meru. See the appendix from the Ministry of Education for full details:
Related Content:
How to download Form one 2019 admission letters for National schools, Extra County Schools, County schools in kenya, Form one selection results