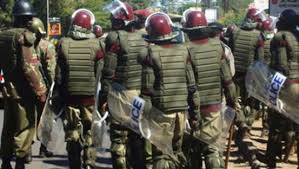 The police report that last evening at about 8pm, a gang of men armed with AK 47 rifles attacked Chakama Trading centre in Chakama, Makongeni sub location in Kilifi county, about 80 kilometres west of Malindi town. The gang injured 5 local residents and abducting a young Italian Lady.
The attackers fired indiscriminately at residents injuring the following:
Samini Garama Dadu, aged 23 years was shot on the left side of the neck and is in serious condition,
Ibrahim Said, aged 16 years was shot on the left knee and his condition is stable,
Elias Mwaringa Kathua, aged 12 yrs was shot on the left thigh, his condition is stable,
Mohamed Kalume Konde,aged 10yrs was shot on the left eye, his condition stable and
Mang Katana Jeffa, aged 20yrs was shot on the right thigh, his condition stable.
All the injured persons were taken to hospital and contingents of police officers were deployed to track down the criminals.
The Gang, also, abducted an Italian lady aged 23 years who is a volunteer of Africa Milele Onlus; a Non Governmental Organization, NGO, operating in the area.
Neither the reasons for the attack nor the identity of the attackers have been established, so far. Now, the Police appeal to members of the public in the area to report promptly to the nearest Police Officer or Police Station should they sight the criminals with the abducted lady. The police have assured the public that they are sparing no effort in tracking down the criminals and to rescue the victim.