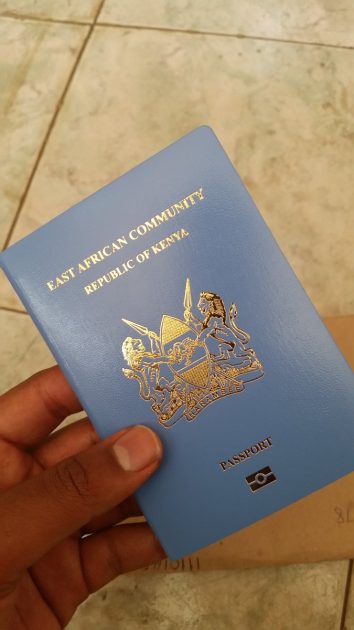 Kenyans are expected to change their ordinary passports to e-passports before 31st August 2019. 
To apply for a Kenyan Passport:
Visit the E-Citizen website by using the address https://www.ecitizen.go.ke and click on create an Account.
Once Logged in, Select Department of Immigration services.
Select submit Application.
Select Passports and Temporary permits.
Select Temporary permit application and read the Instructions Carefully.
Fill in the application form.
Pay Using Mpesa, Airtel money, Visa card, Mastercard or Mobi cash.
Download and print the Temporary Permit from your E-Citizen account then
stick your photo on the permit.
Present your printed Temporary Permit to the immigration officer at the
port of exit.
Alternatively, 
Passport Application Process
You can apply for, renew or replace your passport and pay for it online. You'll have to print out a form at the end. You must sign and date the form, add any documents or photographs that are needed, and return it for processing.
You will pay using mobile money, Credit, Debit Cards and online banking from local banks. It should take at least 10 working days to get your first passport once your form has been physically submitted at the Immigration offices. For all other application types, it should take at least 5 working days. It can take longer if more information is needed or your application hasn't been filled out correctly.
STEPS OF APPLICATION
Register on https://www.ecitizen.go.ke
Go to +https://immigration.ecitizen.go.ke and or Department of immigration services and click on the passport application form.
Read the instructions carefully then fill the application form.
Select the mode of payment and pay for the passport fees.
Download and print the application form and three application receipts.
Submit the application form in person to the Immigration offices.( Nyayo house, Mombasa & Kisumu.)
DURING THE SUBMISSION YOU WILL NEED THE FOLLOWING
An eCitizen pre-filled passport application form and three receipts.
Original birth certificate and photocopy.
Original National ID Card & copy.
Three Current passport size photos.
Recommender's ID Card copy.
Consent letter for minors.
Old passport for replacement.
Parents National ID cards and copy.
The new Passport costs are:
34 pages @Kshs. 4550
50 Pages @+Kshs. 6050
66 Pages @Kshs. 7550
Diplomatic Passport @ Kshs. 7550
For any Queries, contact the Immigration Offices at:
Nairobi Office: +254 772 246 669
Mombasa Office: +254 708 206 206