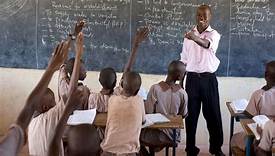 1. Mathematics Teacher ,Hillcrest International Schools.
We are seeking to fill the full-time position of Mathematics Teacher at the Secondary School, starting January 2019.
Role Summary: The teacher will deliver the curriculum through the scheduled teaching programme for the requisite subject to IGCSE and A level, assess and record students' progress, prepare reports, participate in parental consultations, work collaboratively with colleagues with the aim of promoting and securing rapid progress for students throughout the school.
Qualifications, Knowledge & Experience:
Minimum undergraduate degree and Qualified Teacher status.
Experience of teaching Mathematics in secondary school including IGCSE and A level for at least 2 cycles and ability to actively promote interest in the subject.
Deep understanding of the statutory curriculum requirements for the subject and the requirements for assessment including recording and reporting.
Promote excellence in teaching and learning to ensure all students develop their potential and are equipped for life beyond school.
Promote the general progress and well-being of individual students and of any class or group of students assigned to her/him.
Teamwork: the ability to work collaboratively with others
To Apply:
Send an application letter detailing your relevant experience and teaching philosophy together with detailed Curriculum Vitae including names and contacts of three referees to Recruitment@hillcrest.ac.ke by 30 September 2018.
This position offers a competitive remuneration package.
Only shortlisted candidates will be contacted.
Hillcrest International Schools is committed to safeguarding and promoting the welfare of our students; Successful candidates will be subjected to thorough screening to ascertain suitability to work with children.
2. Springs high school Rongai urgently needs a kis/histo teacher on BOM . 0721156269 principal.
3. Tsc Vacancy
Good afternoon. Mbooni Girls did not get applicants for Geo/ Chem. The Commission has approved change of subject combination to Geo/ CRE. The deadline for application: 4/10/2018. Interviews on 8/10/2018.
4. Saire sec urgently needs Eng/lit teacher.Must be tsc registered.Contact 0724687990
5. Njuri high is looking for a business studies teacher on BOM terms contact 0721539153 urgently.
6. TEACHING POSITION
WISER NGO is a community based organization based in Muhuru Bay with a clear mission of Social empowerment of under privileged girls through education and health. The NGO's main program is Wiser Girls' Secondary School.
Wiser invites applicants for the following teaching positions starting January 2019.
English Literature
Geography / Maths or Maths / Business Studies
Requirements;
Bachelor of Education degree from local universities
At least two years teaching experience
TSC Registration
Send your application and testimonials by email to reach the Principal not later than 31st October 2018
Dorcas A. Oyugi, HSC.
24/09/2018
Email — dorcas.oyugi@wisergirls.org
7.Vacancy vacancy. Enchoro pefa secondary urgently needs a lab technician.call 0722285591/0710745430
8. We are looking for outstanding teachers of Mathematics, English Kiswahili, Geography, History, Religious Education, Biology, Chemistry, Physics, Business Studies and Agriculture for their Kisaruni Group of Schools.
Location: Mara
Qualifications / Requirements:
Degree in Education from a reputable institution
3 years' experience in recognised institution
Applicants must have a TSC number
Main Duties and Responsibilities:
Teaching (A minimum of 2 subjects)
Maintain positive constructive and professional relationship with learners, their families and colleagues
Create a classroom environment that is conducive to learning, is developmentally appropriate to the maturity and interest of the learners
Infuse joy and passion for learning in lessons so that learners are interests in academic excellence
Be accountable for learners' mastery of academic standards
Set and communicate ambitious goals for all learners and provide them with feedback
Perform other related duties as they arise and as delegated by the campus leadership
Key Areas to Success:
An outstanding track record in subjects taught
A great communicator
Flexible and open to change
Problem solver
WE sincerely thanks all those who apply, however only those considered for an interview will be contacted. While CV's are important, we want to know what makes you a great fit for our team and culture. We will consider applications on a rolling basis and would like the right person to join us as soon as possible.
Please apply to: infokenya@we.org before 8th October 2018.
Please send in your CV along with a cover letter and please indicate your current salary in the CV
For more details on the organization visit: www.we.org