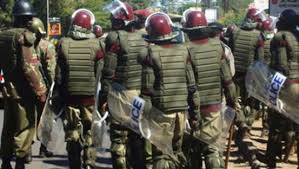 I am a police officer based in Mucatha Police Station. I have decided to seek safety by narrating the reason I am facing threats from an honourable Member of Parliament. Early this week, I was in service duty at the report desk alone due to shortage and maternity leave of one of my colleagues. I was there dozing off at around 4.30am. I do not like closing the office, but I close the door, leave the lights on and with my heavy, warm, blanket-like jacket fall under the category of my workmates enjoying their sleep at the comfort of their beds. At my struggle of finding the best posture to find sleeping comfort on the wooden bench at the waiting bay, I received a call from a local bartender.
"Hello Mkubwa, pole sana kwa kukuamsha lakini sina otherwise boss," he said. I am used to expressing myself tough to this kind of people who are often visitors of our cell despite being my friend. I rudely replied to him, "kwani leo umepelekwa zizi gani sijakuona hapa, umeshindwa kujitoa ama?" "Apana Mkubwa, jamaa got hit by a V8 machine hapa saa hii na imetoroka," he informed.
I insisted on him that he was drunk, adding that he might be under the influence of a harder drug than bhang. He admitted that he was a little alcohol drunk. He told me it was a severe matter. About five people who were in the bar joined by some few others were offering first aid to the victim.
"If already uko hapo mpeleke hospitali," I replied dismissively, "hata labda mwenye amemgonga ananelekea hapa. Lakini nitaona tutafanya aje." I hung up the call and pulled my jacket together for warmth-feeling sleeping mode.
In about five minutes another call rung. I ignored at first, not even bothered to know who was calling. I knew it had to be about the news I just received. Immediately when the ringing was over, another call came through. This time I checked who the caller was; to my surprise, it was my senior. I jolted awake, cleared my voice and pretended to be very alert. I received the call. She did not give me a chance for salutation and immediately got into questioning.
"I am informed you are at the report desk, umesikia hii mambo ya Mheshimiwa?" She asked. Her voice sounded as if she was under pressure to pursue something having worked under her for over eight months. I told her that I had not heard information about any Mheshimiwa. However, I informed her about the accident that had been reported involving a hit a run case. I lied to him that I wanted to call Corporal Kiarie and his team who are on patrol to go check on the incident.
"What the hell! Kiarie ndiye anazurura leo?" she outcried. Yes, Madam," I replied. Tell him to avoid Juja Overpass area though I will call him also." She directed. "But Madam hata labda amepigiwa simu already. Unajua pia mimi nimepigiwa simu tu na civilian," I tried to explain.
She commandingly instructed that I should neither record any statement about the accident nor issue any P3 form to the victim. He continued to order that I should know how to play around with such issues. Being this person who seeks harmony with people, I agreed without questioning. I was at cross-road on what to do. It was likely that the accident would attract the media's attention, but Madam O.C.S. had frozen my calls for duty on the event.
All my dizziness was lost. I was caught up in murmurs of curses. Imaginations of what if Ken, the bartender, had alerted the good Samaritans that I was aware and concerned about the accident.
Soon, I received a call from my colleague Corporal Mueni, who was accompanying Corporal Kiarie on patrol. He told me an accident had occurred at Juja Overpass a few minutes ago.
"Ushafika ama?" I interrupted. He told me that they were headed there they were just about the River Thiririka's bridge. They were hurriedly walking to get to the scene after they were briefed by a boda boda rider about the reason of noise across the ridge.
My eyes could blink again after being snared by the helpless proceedings of the termed fatal accident by the Corporal Mueni. I only had to inform the corporals about the position of the senior office which he received by disgust.
Kumbe ni mnyama mwenyeji anakula hadi Madam," Mueni replies as I could hear laughs from Corporal Kiarie in the background. I couldn't hesitate to comment on the O.C.S's surprise about the presence of Corporal Kiarie in the patrol team at the night of the incidence.
Corporal Kiarie is known to be the most trustworthy officer in the station who is rigid. He sometimes defies the orders, especially at times he considers them wrong. He had once challenged the O.C.S's order and claimed he misunderstood the request; thus, he did what was right.
Corporal Mueni hung up the call immediately Corporal Kiarie received a call from Madam O.C.S. She directed them that they should be aware of influential people's concern about the accident. She was the one to take care of the issue very early in the morning.
This time, Corporal Kiarie called me and sought to know what I knew about the accident. He then told me he only hoped that there will be no negligence claim for them. They returned to Kenyatta Road relenting.
Later, I covered for Corporal Kiarie and Mueni when Ken called to inform that the victim who they had identified to be Mark, a Mutura seller outside Ken's bar. He had been rushed to JKUAT Hospital in very severe bruises in his leg and some injuries on his hands and face. Walking was impossible. He informed me that he was in bad condition they could not have waited for the police to get to the scene.
The information got me relaxed for a moment until he told me that some of the people who had witnessed the accident happening claim that the involved vehicle belongs to Honourable Waiganjo. Besides, witnesses were angry to the extent of suggestions of demonstrations. I sought to know whether Mark was drunk, but Ken insisted he had had very little beer to be unable to walk or cross the road. He could blame the driver's vehicle for over-speeding according to those witnesses who witnessed the accident.
It's now around 5.00am. More and more people are starting to stream headed to their job. Sadly, the area is very strategic that everyone living around Juja and a job commuter have to pass by that road point. The issue could get out of hand. My indecisive and cautious ideas in my mind could not wait for the one hour to end for the shift swipe. The hour remaining was so intense and restless for me.
Around twenty minutes into the hour, the O.C.S called me again. "Is there anything worth knowing that have arisen?" She asked.
"Not really, though it seems the vehicle was identified by some locals. They are suggesting to hold demonstrations." I replied. She surprisingly exclaimed with a soft voice as if she was whispering, "what! Demonstrations? … naelekea kuongea na Mheshimiwa, I will be there in a moment perhaps with him." "Sawa Madam," I replied.
After a short while, Corporal Kiarie and Mueni entered the office. They looked tired as usual for anyone who was on night patrol.
"Yaani hata Waiganjo hulala nje? At 4.00am, mtu anatoka wapi kama si mchawi anatafuta damu?" Corporal Kiarie asked rhetorically. Then I added, "kisha mtu anadai heshima na hata hana courtesy ya stopping to check the victim at least ampeleke hosi." Corporal Kiarie continues saying, "Imagine at that time hakukuwa na wasee karibu kumuona, si angekufa."
Time passed as we expressed our frustrations. Close to 6.00am Madam arrived at the station. Hastily, she opened the car door and came towards us. She started addressing us even before she had entered the office. Behind her was the M.P. We all stood up, I handed her the Occurrence Book as she had requested. She checked the events of the night keenly then set a stare at the MP who was standing outside the office and nodded. This is the moment that she entered the office and thanked us for not recording the accident.
"We will find a way of how the favour will be evened out," he commented. Madam O.C.S nodded in appreciation while looking at us in persuasion to take the bribe. Corporal Mueni told him that the police service was not about just receiving bribe but also evaluating what possible impact of the events. Corporal Kiarie in agreement expressed himself by saying how it will appear inhumane in taking advantage of such a fatal accident for any cash amount.
"Hata hatujui whether Mark is dead or not. I would forever never forgive myself if he dies and I take that bribe, Mheshimiwa," Corporal Kiarie lamented.
Both Corporal Mueni and I agreed with the Corporal Kiarie. As the M.P rushed to tell us that they had discussed the issue and already he had sent someone to JKUAT Hospital to check on the injuries intensity of Mark. He said that he wanted him transferred to Thika Level 5 Hospital and he would cater to all the hospital bills.
"I am not bribing you, I only appreciating your corporation. I sought from Madam O.C.S help, you implemented it and maybe requesting hii maneno isiende nje sana, you know…" M.P. said.
Corporal Kiaire angrily but with a soft voice dismissively replied to him that he seems to have terrorized the whole police station. He said that he was feeling handcuffed because in case of the news breaks, we, the police on duty that night, were the one to answer. He said that he has had his reputation tarnished.
The glass has already fallen. It is broken, but we do not know how many pieces, hayo yamepita Mheshimiwa" Corporal Kiarie sadly told the M.P. He asked for the armory keys so that he could return the gun and go for a rest.
Everybody was quiet. Kiarie sounded disrespectful but concurred with him. I was very eager to handover the shift though I could not express myself. I wasn't ready to handle the upcoming chaos having been involved at dispersing JKUAT students during their strikes and demonstrations. Corporal Mueni did not seem in a hurry. He wanted the bribe, yet Corporal Kiarie was ruining the chance. Madam could not allow anyone to leave the station. She knew if we set off from the station, we would not respond in case of demonstrations later on. She, however, did not want to involve any other station to avoid escalation of the matter.
At around 6.20am, Madam O.C.S and the Hon. Waiganjo had moved outside; they had a very intense conversation. Madam seemed dull. Often, she was mute and looking doubtful. The mutter was fiery to the extent that Sergeant Jane noticed as she walked past them to the office desk.
"Kwani kuna meeting leo na sina memo?"Sergeant Jane asked, looking at me. With a forced smile, bending my neck for a look at my fellow colleagues, I replied, "yeah, an urgent one but haina agenda. Gladly join us." I could tell Madam heard me humorously responding. She looked at me with a wrinkled condemning face from outside the office.
No one could explain the activities of that night. Hint by hint, question by question until the Sergeant understood the full sequence of the events of the night. The bitterness from her was incomparable to our feeling. She kept reminding us how sweet Mark's african sausages taste. She frequently visits his cooking stall. She also could not imagine serving at the desk within the following six hours.
M.P rush in the office and smilingly informed us that the X-Ray scan has identified no fracture. The doctor had diagnosed that Mark had fainted due to excessive bleeding. He had recommended that it is not necessary to transfer Mark. If a blood transfusion is done before 9.00am, then by evening or the following day, he would be discharged.
We could not relate the excitement. "That's great lakini wewe uko sawa, how about us? All the irregularities in line of service we have done?" I asked with a frown face.
"We'll solve this matter bwana. Already I have resolved the issue of demos, this matter is over. Nevertheless, I will make sure of recovery of your friend," he responded.
Madam O.C.S ordered that the desk had to have the two officers. She suggested that I had to remain at the counter for the next three hours than after Corporal Mueni had had a rest, he could take over. This was nonsensical to me. I was on the night duty that following night alone again.
"Don't you trust Jane? I exclaimed as Corporal Mueni held my shoulder calming me down. The M.P was in disbelief that had shouted at my senior. He patted Madam O.C.S on the back and pointed out. As she walked out, she commandingly exclaimed, "That is a command. Utafanya?"
Corporal Kiarie seated on the bench, bent down and could not help but smirk. Contagiously Sergeant Jane laughed. The M.P looked at me and said, "You are not supposed to be here."
In a moment she stood on the door and shifted me with Corporal Mueni who did not resist. The M.P said, "Walkout!" as she looked at me, "nisikie ukiongea huko" he continued. The O.C.S picked the armory room keys and opened. Corporal Kiarie and I returned the gun and walked out.
"Unadhani wewe utakuwa wa kwanza,," M.P yelled at me as I walked out past him. Later I was informed that he said he cannot afford to risk losing popularity at the expense of one mouthy policeman. He threated misery on me if any information leaks.
Some dark police moments only appear to be fantasy. However, they could be real. I tried to imagine how I would go about such a situation if I were the police. If demonstrations happened, I find myself fighting the aggrieved civilians for fighting for their rights as well as fighting for my independence while serving them.
Story by Dennis Kimani (Email; dkimani171@gmail.com)